Trailer Round-Up: 'Godzilla' Anime, 'Rememory,' 'Tiger Hunter,' 'The Star,' 'May It Last'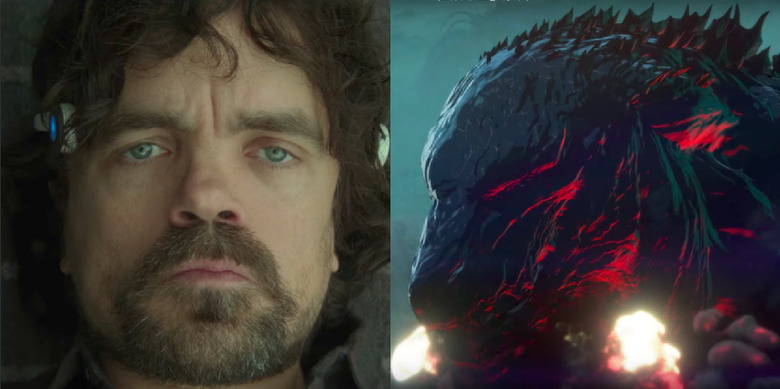 Studios drop countless trailers each week, so there will inevitably be many that fall through the cracks. While we at /Film cover all manner of trailers every week, from indie films to sci-fi B-movies and Netflix films, here are a few that we missed.
Godzilla
While the U.S. gets their own Godzilla to pit against Kong and the rest of the kaiju monsters in Warner Bros.' shared MonsterVerse, Japan will fittingly get an anime version of the iconic monster it brought into the pop culture zeitgeist. Titled simply Godzilla, the film will premiere on Netflix on November 17 as the first in a trilogy of movies for the streaming service.
The anime Godzilla will give a new twist on the story by setting it in the future "in which Godzilla has dominated the Earth for the past 20,000 years with mankind as diaspora, culminating in a fateful final confrontation." The trailer is only in Japanese and is delightfully as anime as you can get, complete with intense, strained voice acting from the characters, and lots of breathless shouting and cursing.
Godzilla is animated by Polygon Pictures and directed by Kobun Shizuno.
Rememory
Peter Dinklage stars in a sci-fi drama that plays like Eternal Sunshine of the Spotless Mind as a thriller. Or perhaps an episode of Black Mirror. Dinklage's mysterious character starts investigating the death of a genius scientist who invents a device that can extract, record, and play a person's memories. But with his investigation comes a string of deaths and intrigue, as Dinklage's character steals the machine to try to solve the case.Rememory will be available on Google Play for free on August 24 before it hits theaters September 8, 2017.
The Tiger Hunter
An upbeat coming-of-age comedy starring Danny Pudi, finally making his move out of the shadow of Community and various superhero movie cameos. Pudi stars as an Indian boy who comes to America in the 1970s to impress his crush back at home, and he ends up meeting some quirky characters and presumably finding himself along the way.
The Tiger Hunter is directed by relatively new filmmaker Lena Khan, and will start airing in select theaters on September 22.
The Star
Steven Yeun continues his prolific animated voice actor career (watch Voltron: Legendary Defenders!) as Bo, a donkey who believes he's destined for greater things than life at the village mill. He teams up with Ruth, a "lovable" sheep (Aidy Bryant) and Dave the dove (Keegan Michael Key) on a Biblical adventure — literally. Oh, and there's Jane the Virgin's Gina Rodriguez playing the Virgin Mary. It's a fun, family-friendly take on the first Christmas, because who doesn't want to watch an animated retelling of the birth of Jesus with a Walking Dead actor voicing a donkey?
The Star is directed by Timothy Reckart and will come out this holiday season.
May It Last: A Portrait of the Avett Brothers
Lastly, we have a documentary directed by Judd Apatow and Michael Bonfiglio, two No. 1 fans of the Avett Brothers. Who are the Avett Brothers, you ask? A bluegrass, country, punk, pop melodies, folk, rock and roll, indie rock, honky tonk, and ragtime band hailing from North Carolina, they are the subject of what is described as "a meditation on family, love, and the passage of time."
It's the kind of quaint, off-beat portrait of a group of characters that Apatow excels in, and is an intriguing career move for the director who has recently taken more of a producer and background role in elevating new talents.