'It' Eyeing A $50 Million Box Office Debut Because Everyone Loves Creepy Clowns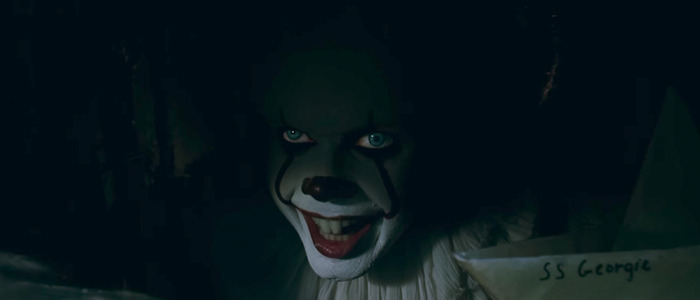 The next Stephen King adaptation is on track to fare a whole lot better at the box-office than The Dark Tower. While the tale of the gunslinger, the man in black, and some kid floundered at the box office, the story of the Losers' Club trying to survive in Derry, Maine is both a cheaper production and has generated far more advance buzz. A few weeks from its release date, It has a lot going for it, including some great marketing, nostalgia for the 1990 miniseries, and the King name. It's no wonder the horror movie is expected to make a killing opening weekend.
Below, read more about the It box office tracking.
Variety writes that director Andy Muschietti's (Mama) adaptation is expected to gross over $50 million its opening weekend. If it hits that number, it'll be the biggest opening for a September release, surpassing Hotel Transylvania 2's $48 million opening. Variety's sources tell them the $50 million projection might be inflated and the final numbers may end up closer to $40 million. Even if it ends up making $40 million, that's fantastic for an R-rated horror movie that's 135 minutes long. People seem excited for this film – back in March, the first trailer got 197 million views in just 24 hours.
Horror movies tend to have a habit of a huge second weekend drop-off, rarely showing legs at the box-office. But that's not always the case, with this year's Get Out being a recent and shining example. Jordan Peele's horror movie earned $33 million on its opening weekend before going on to make $175 million at the domestic box-office.
Then again, a horror movie as well liked at The Conjuring 2 can face a 63% drop-off its second weekend. Remember Platinum Dunes' very fun Friday the 13th reboot? It made $40 million opening weekend before taking an 80% hit a week later. As successful as The Purge franchise is, they also stumble their second weekends at the box-office, but still make a killing when it's all said and done.
Whether It's running time will play a factor in the box office at all, we'll see. At two hours and 15 minutes, it's much longer than the average horror title. It'll have fewer showings, but the lengthy runtime could be no problem at all. Some of the biggest movies of all time are lengthy epics. What's most promising about the potential success of It is that the sequel adapting the second half of King's book could actually happen. While It is a standalone movie without any cliffhangers, Muschietti told us one of the final scenes of his film would set up what's to come in a future sequel.
It opens in theaters September 9, 2017.