First Look: The 'Frozen' Broadway Cast In Their Costumes [Updated]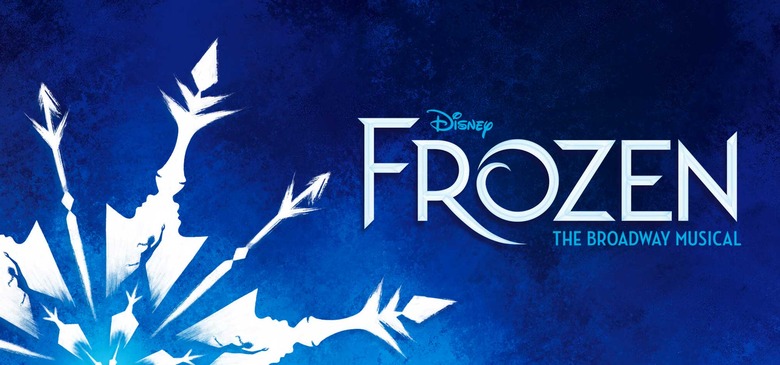 Update: The Frozen Broadway musical released an official first look at the actors who play Anna, Elsa, Kristoff, and Hans in costume. Our original story continues below.
***
Do you like your wallet? Well, that's too bad, because it's time to let it go.
The days are counting down until the musical adaptation of Frozen premieres on Broadway in February, and we've gotten our first look at the elaborate stage production — as well as a first look at the skyrocketing prices as tickets went on sale this week.
Frozen is an ambitious undertaking for the stage. One of the standout scenes from the animated film was when Elsa creates an intricate ice castle from thin air — a remarkable feat of animation, but a challenge for the Broadway play.
But stage productions are never one to balk from a challenge, and from the Frozen Broadway first look, it seems like this adaptation of the hit Disney film is no exception.
Disney on ice. @frozenbroadway #frozen #hans #winteriscoming ?? Glorious clothes and scenery by @christopheroram. ????: @marcsbrenner
A post shared by John Riddle (@jclayrids) on
The picture posted by Hans actor John Riddle shows him in costume, descending onto a stage covered in icicles with mist rising in the background. It looks absolutely magical. Chilling, you might say. If the rest of the stage production is half as detailed as this, we're looking at a Disney Broadway production will look genuinely spectacular.
Update: Speaking of stone-cold stunning costumes, the Frozen musical released its first official look at Patti Murin, Caissie Levy, Jelani Alladin, and John Riddle as Anna, Elsa, Kristoff, and Hans, respectively in Entertainment Weekly. See the charming cast in costume below.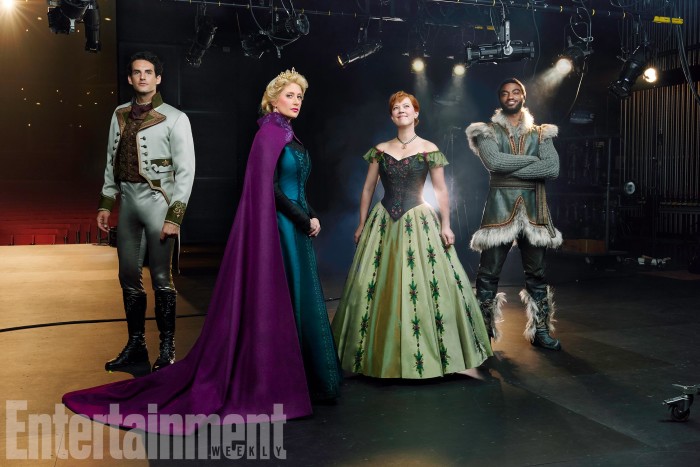 While the set designers seem to be dedicated to recreating the animated film in real life as much as possible, there were going to be inevitable changes to the Broadway adaptation of Frozen in its transfer from animated to stage form. The first of which would be those darned rock trolls, which may have charmed some children, but were somewhat of a sore spot in a great movie.
Another change would ostensibly be the number of songs, which the producers of the stage show increased from about eight songs to 31. Songwriters Kristen Anderson-Lopez and Robert Lopez described that process in the official trailer for the Frozen production, seen below.
The Lopez's are joined by director Michael Grandage, Disney Theatrical Productions President Thomas Schumacher, musical book writer Jennifer Lee, and producer Anne Quart, in describing the process of brining the Frozen musical to life. We also get glimpses of Caissie Levy as Princess Elsa and Patti Murin as Anna in rehearsal.
Will the fruits of their labor be successful? Well, judging by the resale prices of tickets — which only went on sale Monday — they won't have to worry. Frozen makes its world premiere at the Denver Center for the Performing Arts on August 17 for a week-long trial run, and will move to Broadway's St. James Theatre in February 2018. And tickets for that February Broadway premiere sold out on Ticketmaster in hours, according to MarketWatch.
Now, tickets are already being resold on Ticketmaster for a whopping $10,000 each. For balcony seats!
Can't afford paying for a ticket that roughly amounts to the down payment for a small house? Well orchestra seats are going for $5,000 in resale!
Needless to say, unless you are a secret billionaire, it may be a while before you can see Frozen on Broadway. So you'll probably have to satisfy yourself with this first look and later, performances at the Tony's. But at least it looks pretty cool.