Daniel Craig Officially Confirms He'll Play James Bond Again In 'Bond 25'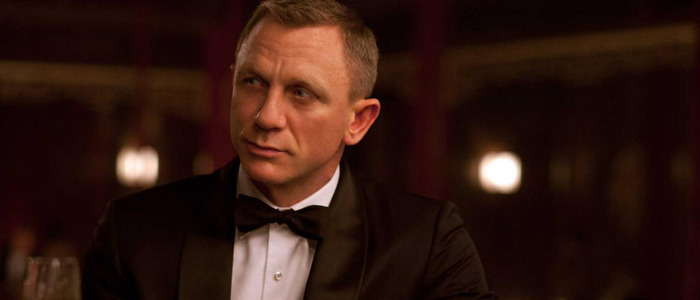 Mere hours after Daniel Craig said he still wasn't sure about returning to the role of James Bond again, the actor announced on The Late Show with Stephen Colbert that he is indeed – yes, officially this time – coming back to play the part again. Two Bond Watch entries in one day? Well, at least we can finally put some of these casting rumors to bed for the next few years.
Day 15 of Bond Watch began with Craig telling a Boston radio station that "no decision has been made" regarding a possible reprisal of the role of the British secret agent. But day 15 ended with a bang when host Stephen Colbert asked if he would be back, Craig replied: "Yes...I always wanted to; I wanted a break."
He's certainly had a break: the disappointing Spectre came out in the fall of 2015, and hot on the heels of that film's debut nearly two years ago, Craig said he'd "rather break this glass and slash my wrists" than play Bond again at the time he was asked that question. Ever since, we've been plagued with rumors about whether or not Craig would be replaced by someone like Tom Hiddleston or Tom Hardy, or if he'd return for a follow-up. Thankfully, we can press pause on the whole "who will succeed Craig as Bond?" discussion...at least until the still-untitled Bond 25 opens in November of 2019.
It may seem a little strange that the actor would skirt this issue the very same morning as his confirmation, but let's face it: The Late Show with Stephen Colbert is a far more visible and respected place to make a huge announcement like that instead of confirming it on some random radio show. (No offense to that radio show, of course.) He likely had a handshake agreement with Colbert that he'd announce it on that show, and was just treading water this morning until he could let the cat out of the bag.
Spectre ended with Bond leaving his compatriots to arrest Christoph Waltz's Blofeld as he headed off with Lea Seydoux's Madeline Swann, but there's no confirmation that she'll be coming back as well. Unconfirmed rumors have indicated that the producers at Eon Productions may be looking at On Her Majesty's Secret Service as a potential influence for the new movie. Those of you who remember how that book and film ends might have an idea about the possible fate of Ms. Swann, should she even appear in the next film at all. To me, the more likely option is that Seydoux doesn't come back and Craig has an entirely different Bond girl to contend with next time around. (I mean, let's face it: she's no Vesper Lynd.) But the ins and outs of the new film's plot will almost certainly be the subject of many more Bond Watch entries to come.
Here's an idea: maybe Bond can come to America and kick some Nazi ass. We could sure use the help over here.