We're Getting An Asian-Led Romantic Comedy With Ali Wong And Randall Park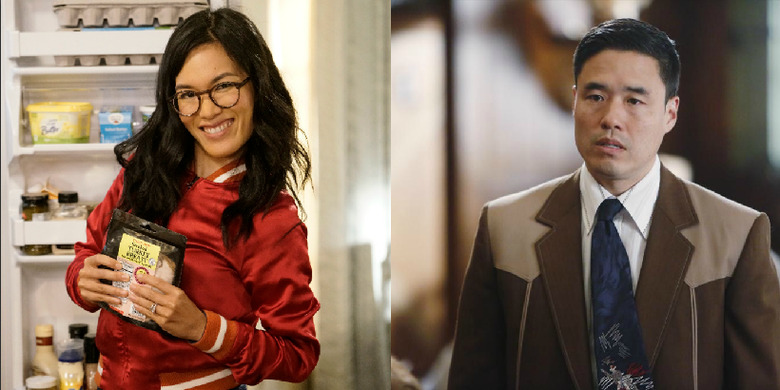 Asian-Americans aren't necessarily well-represented in Hollywood. In fact, you could say they're pretty poorly represented, with few lead roles written for Asian actors, while plenty of those originally Asian roles are given to white actors in a little phenomenon called "whitewashing." There's a whole stigma around Asian men being believable romantic leads due to centuries of media and pop culture emasculating them, but that's a whole conversation I'll get to later.
But everything's coming up, Millhouse. First, we had The Big Sick and Master of None showcasing South Asian men in complex lead roles, romantic and otherwise. Soon, we'll be getting Crazy Rich Asians, a rom-com which boasts an all-Asian cast. And now, Netflix is gifting us with another Asian-American-led rom-com starring the always hilarious Ali Wong and Randall Park.
Deadline reports that Wong and Park, both currently starring in ABC sitcoms American Housewife and Fresh Off the Boat respectively, have signed on to star in an untitled feature comedy they co-wrote with Michael Golamco. Netflix hasn't yet tapped a director for the project.
Wong had hinted that she was working on a romantic-comedy project with Park during a 2016 interview with The New Yorker, describing it as "our version of 'When Harry Met Sally,'" but we hadn't heard a peep about it until now.
The brief film synopsis from Deadline isn't quite When Harry Met Sally, but it sounds like it has a ton of potential:
"The film follows two childhood friends who find themselves in vastly different socioeconomic situations when they fall in love as adults."
This will be Wong and Park's first onscreen project together, having previously worked on Fresh Off the Boat in which Park stars and Wong has written for. But both of them are superlative comedians, Wong getting her mainstream breakout with her Netflix stand-up special Baby Cobra and Park stealing the scenes in Fresh Off the Boat and in supporting roles in Veep and The Office.
The Importance of Asian-American-Led Movies
This and Crazy Rich Asians, which has an Asian-American lead played by Constance Wu (Park's Fresh Off the Boat costar), is what we've been waiting for when Photoshopped posters of John Cho first started circulating the Internet. The social media movement, called #StarringJohnCho, pushed for more diversity in movie lead roles by featuring the Star Trek actor in the posters for The Avengers, James Bond, and Me Before You. Coincidentally, Cho is starring in his own romantic drama called Columbus, which looks absolutely stunning. I used the "Coming up Millhouse" meme facetiously because it really is coming up for Asian-Americans in Hollywood.
It's been a long time coming. Asians have not had a positive history of being depicted onscreen, with yellowface running rampant in early films like The Good Earth or Breakfast at Tiffany's, or even as recently as Linda Hunt in 1982's The Year of Living Dangerously. When not being played by white actors, Asian women were often sexualized or depicted as dainty prizes like in the opera Madame Butterfly — in which Asian men didn't get a good rep either, portrayed as lecherous rapists. But the sexualized portrayal of Asian men didn't stick for long, with characters like Long Duk Dong in Sixteen Candles cementing the stereotype of the emasculated, socially inept loser.
As you can see, rom-coms are the first barrier to overcome for Asian-American representation in Hollywood. Next, we just need to tackle action films. I'm banking on a Han spin-off movie in which he seeks revenge for being the most underrated Fast and Furious character.