'80s Teen Comedy 'License To Drive' Getting A Female-Driven Reboot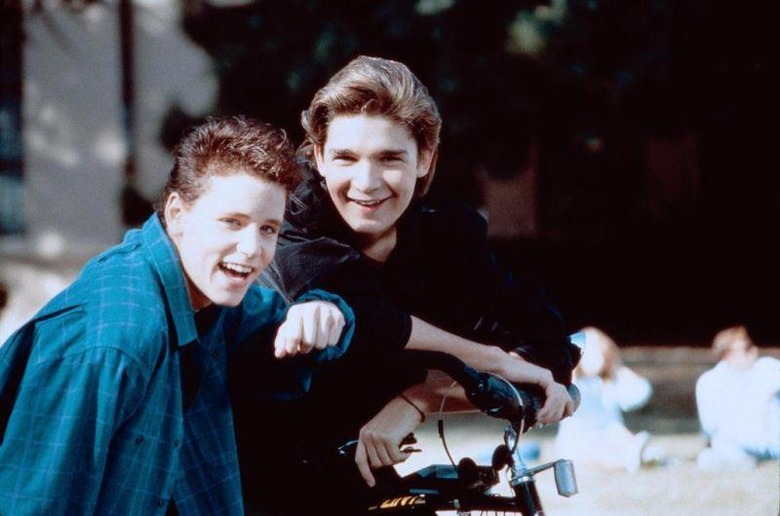 Two female leads will be getting their License to Drive.
The '80s teen comedy originally starring the Two Coreys, Corey Haim and Corey Feldman, is getting a gender-bent reboot courtesy of producer John Davis, recently behind big-screen reboots like The Man From U.N.C.L.E. and Victor Frankenstein. No word yet on whether the movie will bring back Heather Graham, who made her feature film debut in the 1988 film, for a cameo.
Davis is developing a female-led reboot of License to Drive under 20th Century Fox, according to Deadline. Fox has brought on writers Alish Brophy and Scott Miles (Girl Problems) to develop the remake, which is being described as a "female version of Superbad," Deadline reports.
The original film was a pretty standard teen coming-of-age-comedy, about a boy who fails his driving test and sneaks out of the house and borrows his dad's car to party with the girl of his dreams. And, in the vein of '80s teen movies like Ferris Bueller's Day Off, the main character (Haim) smugly breaks the fourth wall to introduce his night of debauchery. "What can go wrong?" Haim's Les Anderson intones to the camera for no reason.
Here's the synopsis for the original film below:
Teenager Les Anderson (Corey Haim) thinks his life can't get any worse after he flunks his driver's exam, but he's wrong. Even though he didn't receive his license, Les refuses to break his date with the cool Mercedes Lane (Heather Graham), and he decides to lift his family's prize luxury car for the occasion. Unfortunately, Mercedes sneaks some booze along and passes out drunk, and a confused Les makes the bad decision of enlisting his rebellious friend, Dean (Corey Feldman), to help.
There's no more information about who will play the two female leads, or the possible male love interest that will replace Graham's character (though it would be wild if they cast a female love interest instead). It's possible that Feldman or Graham could make a cameo in the film as well, as many of these newfangled reboots adore making homages to their '80s roots. Although the film may choose to not reference the original cast, due to Haim's tragic early death in 2010.
The movie License to Drive has arguably less of a legacy than its former teen actors. The Coreys were beloved as child actors, but the sudden fame and success at a young age led them to a tumultuous life of drugs and rehab. While Feldman seems to have found his peace with music, Haim dealt with struggles for much of his adult life until his passing. There's ostensibly a better system in place for child actors today than there were in the '80s, but I hope that whoever are cast in the female-led License to Drive will go down a better road than its former leads.