'Kingsman: The Golden Circle' TV Spot: Not The Average Tailor Shop Employee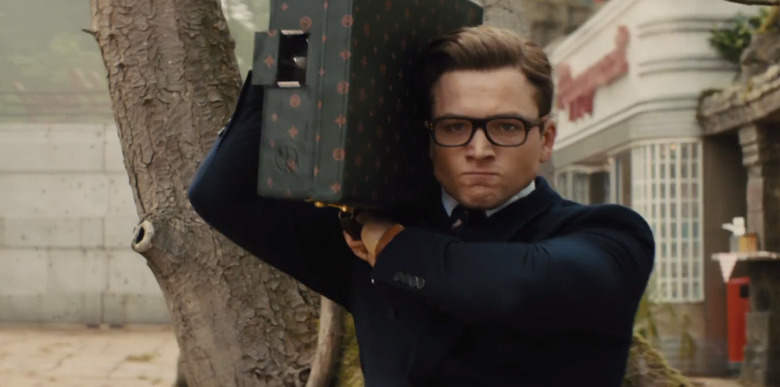 Kingsman: The Secret Service is a movie with energy to spare. Matthew Vaughn's spy movie moves fast with an infectious giddiness about itself. The director's enthusiasm for this world of spies and super villains is unmistakable. Next month, that world is going to get bigger with the sequel, Kingsman: The Golden Circle, which looks every bit as playful as the first movie.
Below, watch the new Kingsman: The Golden Circle TV spot.
Taron Egerton is back as Gary "Eggsy" Unwin, who we last saw transform from a street thug to a spy saving the world. The planet is in trouble again, thanks to Poppy (Julianne Moore). While Valentine (Samuel L. Jackson) couldn't stand the sight of blood, Poppy can maintain a picture perfect smile as she spills it. In the Comic-Con footage, Moore maintained a comically joyful demeanor when one of her goons is dispensed of in a horrifying fashion. Her motivation still isn't clear from the trailers, but hopefully, it's as compelling as Valentine's. Poppy, whose evil lair is a 1950s-styled town, is the head of a secretive drug cartel called The Golden Circle.
With some assistance from a few of the Statesman – played Jeff Bridges, Channing Tatum, and Halle Berry – Eggsy and Harry Hart (Colin Firth) attempt to take down the Golden Circle.
Like Kingsman: The Secret Service, the sequel seems to be taking itself only as seriously as it has to. Vaughn and screenwriter Jane Goldman can make such outlandish, playful characters and worlds while still maintaining the stakes and some sense of humanity and danger. Not an easy balance to pull off, tonally, but they seem to know the proper amount of cartoonishness to really sell this world.
"Kingsman: The Secret Service" introduced the world to Kingsman – an independent, international intelligence agency operating at the highest level of discretion, whose ultimate goal is to keep the world safe. In "Kingsman: The Golden Circle," our heroes face a new challenge. When their headquarters are destroyed and the world is held hostage, their journey leads them to the discovery of an allied spy organization in the US called Statesman, dating back to the day they were both founded. In a new adventure that tests their agents' strength and wits to the limit, these two elite secret organizations band together to defeat a ruthless common enemy, in order to save the world, something that's becoming a bit of a habit for Eggsy...
Kingsman: The Golden Circle opens in theaters September 22, 2017.