Watch The Entire Rebooted 'DuckTales' Pilot Online For Free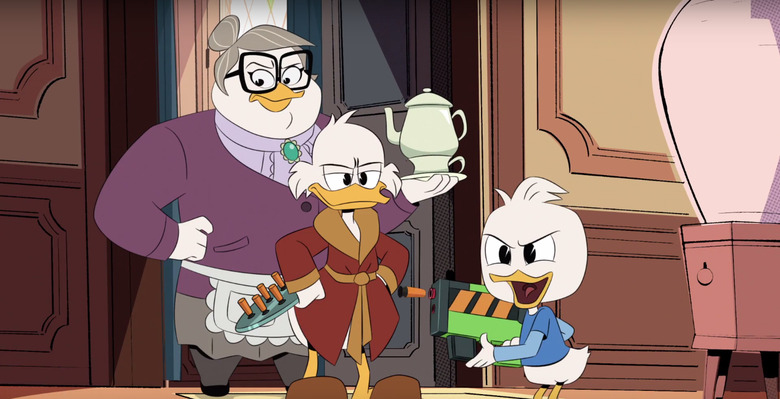 Two days ago, DuckTales returned with an all new style and cast on Disney XD. Season one of the 2-D animated series is 21 half-hour episodes and two hour-long specials. Before the show even premiered, Disney ordered a season two. They're clearly confident in the reboot. If they weren't, then maybe they wouldn't have released the first episode of the revival online.
Below, watch the hour-long DuckTales pilot.
The new DuckTales comes from executive producer Matt Youngberg (Ben 10: Omniverse) and co-producer and story editor, Franciso Angones (Wander Over Yonder). They were inspired by Carl Barks' comic designs from the 1940s and '50s. Looking at his work and the first episode, it's clear to see the influence, especially in the wide-eyed and bright character designs.
In the series, Scrooge McDuck (David Tennant) lets Huey (Danny Pudi), Dewey (Ben Schwartz), and Louie (Bobby Moynihan) live in his mansion. Against his better judgment, Donald Duck lets his boys stay with their granduncle, who they describe as "the most exciting duck in the world." The show co-stars Bobby Moynihan as Louie, Kate Micucci as Webby Vanderquack, Beck Bennett as Launchpad McQuack, Toks Olagundoye as Mrs. Beakley, and Tony Anselmo as Donald Duck. During the first season of DuckTales, Darkwing Duck and his signature motorcycle will make an appearance. Characters like Magica De Spell, Megavolt, Quackerjack, and Ratcatcher might pop up as well.
The first episode debuted around the series' 30th anniversary. DuckTales premiered in 1987. It went on for four seasons until 1990. Here's the first episode of the DuckTales revival, which features some standout work from art director Sean Jimenez (Gravity Falls) and the animators:
With ghosts, submarines, and a treasure chamber, there's definitely a nice sense of adventure to the DuckTales revival. A lot of the jokes land and the animation and characters have personality. There's a lot to enjoy here, which is probably why contributor Dalin Rowell was a fan. "Though the original DuckTales offered viewers thrills and fun in every episode, there's something to be said about a reboot that knows how to pay homage to the show's legacy while also putting a new spin on the concept," she wrote in her review. "There's adventure around every corner, a laugh that is always earned, and it keeps audiences of all ages on the edge of their seat."
Here's the official synopsis of the new DuckTales:
"DuckTales chronicles the high-flying adventures of Duckburg's most famous trillionaire Scrooge McDuck, his mischief-making triplet grandnephews, Huey, Dewey, and Louie, temperamental nephew Donald Duck and the trusted McDuck Manor team: big-hearted, fearless chauffer/pilot Launchpad McQuack, no-nonsense housekeeper Mrs. Beakley and Mrs. Beakley's granddaughter, Webby Vanderquack, resident adventurer and the triplet's newfound fierce friend."
DuckTales is now available to watch on Disney XD every Saturday.