Why 'The Simpsons' Built A Glass Ceiling And How 'Rick And Morty' Is Helping To Break It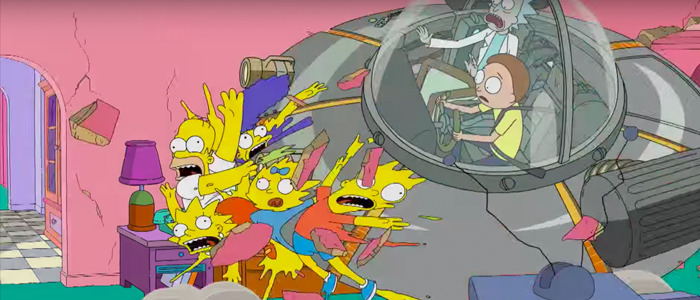 The entertainment industry can be brutal, and that often goes double for women. It's tough to break into a system that's been designed to keep them relegated to the sidelines and the struggle for representation in front of and behind the camera rages on, with occasional small victories fueling this generation of female filmmakers to battle for the right to share stories with audiences.
It's not just directors, either: women accounted for only 13% of writers of movies last year. But while there's still a lot of work to be done, things are looking up a little bit, and a couple of recent stories from the TV world illustrate the strides that have been made from the early days of The Simpsons to the new season of Rick and Morty.
In a chat with Jezebel (via Vulture), author/cartoonist/writer Mimi Pond, who wrote the original pilot episode of The Simpsons (1989's "Simpsons Roasting on an Open Fire"), revealed the reason she believes she wasn't asked to join the show full time:
I was never invited to be on staff, and I never knew why for the longest time. No one ever called me or explained to me or apologized or anything. And it wasn't until years later that I found out that Sam Simon, who was the showrunner, didn't want any women around because he was going through a divorce. It had remained a boys' club for a good long time. I feel like I was just as qualified as anyone else who came along and got hired on the show, and it was just because I was a woman that I was, you know, not allowed entry into that club. I always wind up being the turd in the punchbowl because the show is so beloved and everything, and I'm sorry to burst bubbles but [laughs]. It wasn't a pleasant experience for me.
Simon died in 2015 after a fight with cancer, which may be why these allegations are coming to light now. Unfortunately, he's no longer around to answer to these claims; The Simpsons didn't respond to Vulture's request for comment, but I anticipate there will be an official response to this soon enough and we'll update this article if and when it arrives. But in the meantime, I'm inclined to believe Pond's account is true.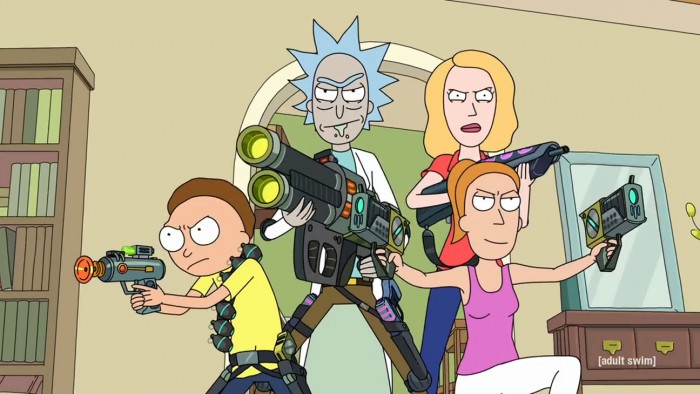 Meanwhile, THR (via Uproxx) has an interview with Jane Becker, Sarah Carbiener, Jessica Gao, and Erica Rosbe, the four women hired to join the writing staff of the animated hit sci-fi series Rick and Morty. That decision makes showrunner/creators Dan Harmon and Justin Roiland's writers' room a 50-50 split between men and women (minus Harmon and Roiland themselves), which is no small thing for an Adult Swim series – all 47 of which are run by men – or for the sci-fi genre, which is incorrectly but still primarily viewed as being "guy stuff."
It also doesn't help that Mike Lazzo, Adult Swim's executive vice president, responded to the network's lack of female showrunners by saying, "Women don't tend to like conflict, comedy often comes from conflict, so that's probably why we (or others) have so few female projects." I wonder if he's been able to remove his foot from his mouth yet?
Gao, who was also the first female writer for Robot Chicken, provided a succinct reason why women should be allowed to be in these rooms (something I can't believe isn't a given in 2017):
"One thing that really pisses me off is when people talk about how hiring writers should be a meritocracy. The people who say that have never ever thought about what that actually means and where that meritocracy comes from. Overwhelmingly, the person who is deciding who is the funniest is going to be a white guy, usually in his 30s or 40s who for sure grew up middle class or upper middle class. Someone like that is going to have very specific life experience and a specific sense of humor."
That's really what it's all about. With different perspectives behind the scenes, Rick and Morty has more opportunities to be a better show than it was before, and to tell stories that a group of guys might not have been able to think of on their own because of their life experiences. This isn't a case of women being brought on to write episodes focusing on the show's female characters – Harmon and Roiland recognize that they're enhancing every storyline by having people who approach things from an entirely different frame of reference. Any true fan of the show should consider that to be a positive thing, and hopefully that mentality will extend to other shows moving forward. (The upcoming batch of X-Files episodes will have two female directors and two episodes will be written by women, so it's possible to take steps like this in live-action, too.)