'Escape Room' Trailer: Everyone's Favorite Craze Becomes A Horror Movie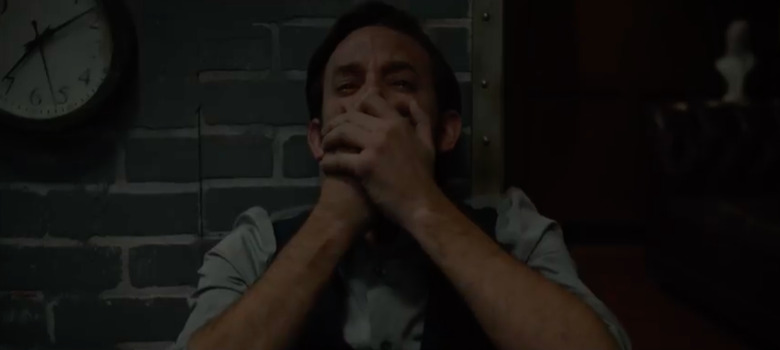 There's been a surge in escape rooms around the country and their popularity doesn't seem to be waning. If you've done one, you know the drill: you and other players have an hour to solve a series of puzzles and escape room. As the craze doesn't seem to be subsiding, it's about time for a movie to try to bank off its popularity. Director Will Wernick's straight-to-DVD thriller puts six friends in a potentially inescapable escape room.
Below, watch the Escape Room trailer.
For Tyler's (Evan Williams) birthday, his girlfriend Christen (Elisabeth Hower) takes him and their friends to an escape room where the stakes are higher than usual. Wernick's film is a thriller with a ticking clock made abundantly clear: one hour to go before you and your friends are trapped forever. Sounds silly until the group realizes they're maybe in a game of real life and death. The movie co-stars Annabelle Stephenson and Billy Flynn as two of the most likely doomed friends who agree to go on a terrible-sounding birthday event. The trailer seems like not a particularly promising mash-up of Saw and The Game.
The 81-minute-thriller was accepted into the Seattle International Film Festival. There aren't many reviews online for it, but it's heading straight to DVD in October and will be available online. Even though escape rooms are a popular and fairly new, they seem to provide too familiar of a challenge in a movie. We've seen this sort of story done really well before, like Vincenzo Natali's Cube, and Escape Room looks like a run-of-the-mill take on the scenario, based on a generic trailer that doesn't promise more than what one would escape from a horror thriller influenced by the Escape Rooms fad.
To celebrate his 30th birthday, Tyler's girlfriend, Kristen, takes him and two other couples to play the latest craze–ESCAPE ROOM. In an escape room, you are locked in a room and given one hour to figure out cryptic clues in order to escape. Harmless fun... until now!
The group is led into a locked room and the clock starts ticking. They quickly sense something is wrong, the puzzles become increasingly difficult and increasingly deadly. One by one the escape room claims a new victim and the surviving players realize they are no longer playing a game; they are playing for their lives.
Escape Room comes out on DVD and digital HD October 10.