'The Death Of Stalin' Trailer: 'Veep' Creator Brings The Funny To Russia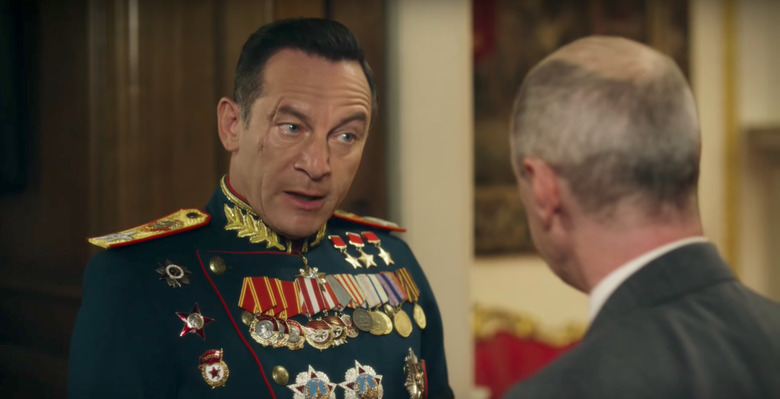 If you've ever watched Veep or The Thick of It and wished you could see them done in a post-World War II Soviet Union, you're in luck. Armando Iannucci, creator of the above foul-mouthed political comedies and director of The Thick of It's film spin-off In the Loop, is bringing that same brand of crass comedy to Russia, with love.
The Death of Stalin follows what happens after, well, the death of Joseph Stalin in 1953 and the havoc it wreaks upon his hapless generals and advisers. It has Jeffrey Tambor bumbling around in a bad dark wig. What else do you need?
True to form for any Iannucci production, there's plenty of cursing in this Russian political satire — though it seems like half the cast completely forgoes the Russian accent and just speaks in their natural American and British brogues — and incompetent politicians. Steve Buscemi is at his bug-eyed best, warning that as the "peacemaker, I'll f*ck up anyone who gets in my way," Jason Isaacs looks absolutely fabulous (and tossing off his coat as if he were auditioning to play Anastasia) as droll, scarred general, and then there's Tambor as the lone American who looks like he got lost on his way to the States. Of course, the lack of actual Russian accents seems be very much part of the joke.
The cast includes Adrian McLoughlin as Joseph Stalin,  Tambor as Georgy Malenkov, Buscemi as Nikita Khrushchev, Olga Kurylenko as Maria Yudina, Michael Palin as Vyacheslav Molotov, and Rupert Friend as Vasily Stalin.
Here's the synopsis for The Death of Stalin:
In the days following Stalin's collapse, his core team of ministers tussle for control; some want positive change in the Soviet Union, others have more sinister motives. Their one common trait? They're all just desperately trying to remain alive.
The Death of Stalin is Iannucci's second directorial feature after In the Loop, a smart and biting comedy that brought The Thick of It characters to Washington, D.C. He went on to create HBO's Veep, but left after the fourth season to give new writers and showrunners a chance to revitalize the series, saying, "every show can benefit from new energy and new names and new ideas." The Death of Stalin looks like Iannucci is still in peak comedy form, however, so it seems like his departure benefited everyone — including Veep, which had one of its best seasons after he left.The Death of Stalin will open in theaters this fall.