Studio Ghibli Reopens As Hayao Miyazaki Refuses To Retire — Again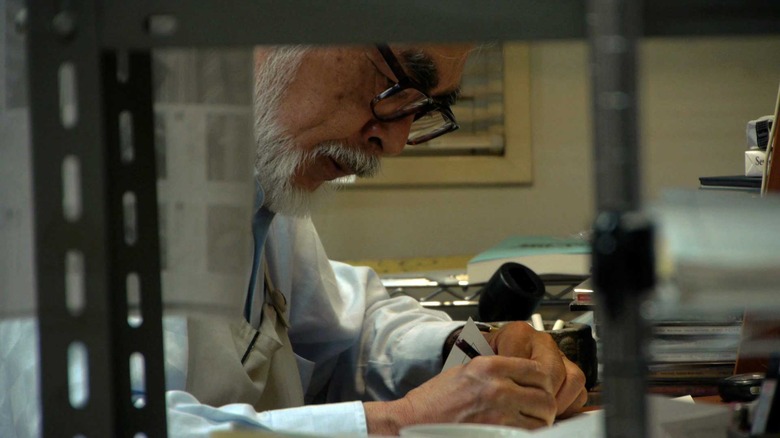 No matter how many times he has announced it, Hayao Miyazaki will never retire. And we can only be grateful that a genius like him will keep blessing the world with his works.
Miyazaki announced (for the umpteenth time) that he would retire from the grueling world of animation that he revolutionized with films like Princess Mononoke and Spirited Away in 2013, after the release of his World War II epic The Wind Rises. But a comeback was inevitable — a few years later it was revealed that Miyazaki was secretly working on a short film called Boro The Caterpillar. Unsatisfied with the final product however, Miyazaki is expanding the short into a feature length film. His un-retirement became official today when Studio Ghibli, Miyazaki's professional home for 30 years, reopened its production department to work on Miyazaki's feature film.
On Friday, Studio Ghibli's production department officially reopened its doors to work on Miyazaki's new feature film, according to The Playlist.
The Playlist cited a translation of Ghibli's official site, which announced that Miyazaki brought together his main collaborators to work on the feature film, and the studio is hiring new staff to work on the new production, which will start on an unknown date. It is unclear, however, whether the feature film that Miyazaki is working on at Ghibli is the feature-length version of Boro The Caterpillar or another film entirely.
Perhaps when Miyazaki announced his retirement from making animated feature films in 2013, he was only speaking about hand-drawn animation. Because his new purported film Boro The Caterpillar will actually be completely in CGI, a form of animation that Miyazaki once hilariously denounced as "an insult to life itself." However, Miyazaki was recently smitten by the CGI bug, quickly learning the technology to bring to life Boro, which he describes as "a story of a tiny, hairy caterpillar, so tiny that it may be easily squished between your fingers."
Miyazaki originally hoped to finish Boro The Caterpillar by the 2020 Tokyo Olympics. Currently, Miyazaki's passion project is currently scheduled for a 2021 release, when Miyazaki turns 80.
Miyazaki is easily the greatest living animator today. His capacity for imaginative and profound storytelling is unrivaled, even as Japan and the rest of the world scramble to find a successor to the oft-called Godfather of Animation. Studio Ghibli, which Miyazaki co-founded with Isao Takahata and was responsible for the bulk of its award-winning films, was also at a loss when Miyazaki announced that he would retire — for real this time, he swore. In a post-Miyazaki world, the studio shuttered its feature film department and focused on bringing small acclaimed films like The Red Turtle to wide release, or collaborative projects like the Polygon Pictures partnership for Ronja the Robber's Daughter series on Amazon Prime.
But Miyazaki has done this dance before. His first flirtation with retirement came with Princess Mononoke in 1997, which at the time he repeatedly called his last chance to make an epic action film (I don't have an article to cite for this, it was in the Princess Mononoke special features which I have watched back to front). His fantastical masterpiece Spirited Away brought him out of this "retirement" in 2001, winning him his only Academy Award and getting him back in the director's seat for three more movies. His final "retirement" was in 2013, and we all know what happened with that.
I could not be happier that Miyazaki is back for the foreseeable future. Spirited Away was a formative movie for me, and all of his films have led me on the path to becoming a movie buff. Although I worry about his well-being, as Miyazaki likes to be involved in every aspect of his movies' productions and often insisted on drawing the key art himself, I'm confident that he will never truly retire. Just watch one of the many documentaries about Miyazaki — Never-Ending Man was specifically about how Miyazaki couldn't put down the pen in his retirement — and appreciate that genius can never be retired.