'Justice League' Reshoots: Cyborg's Tone Was Changed To Be Lighter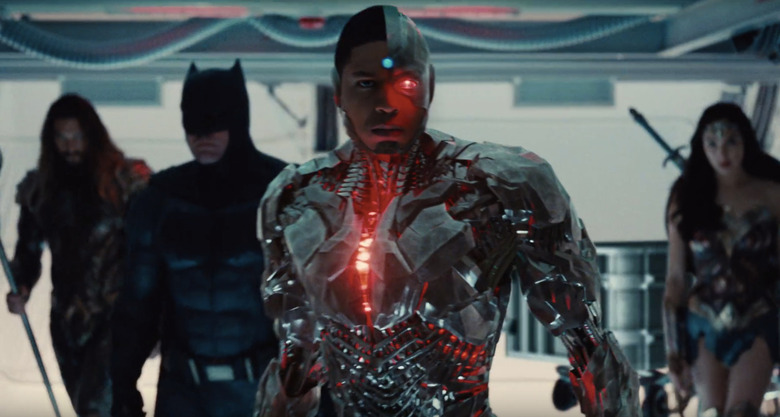 New body parts aren't the only things Cyborg is getting in Justice League.
The cybernetically enhanced member of the team will reportedly be getting a lighter tone in the Justice League reshoots that Joss Whedon is overseeing after director Zack Snyder left due to a family tragedy. Cyborg's tone readjustment is in line with Warner Bros.' push to for more "fun" and optimistic DC Extended Universe movies after the critical and commercial success of Wonder Woman.
The Justice League reshoots have been extensive, to say the least. Costing the studio $25 million and lasting roughly two months, they've been said to overhaul the original movie almost completely. We can't know for sure what has or hasn't been changed, but one of those things is most certainly the movie's tone.
Snyder and Warner Bros. originally set off to make the DCEU as different as possible from the light-hearted Marvel movies, settling on a grim tone that has more or less failed to appeal to the general audiences. While the DCEU movies in that vein — Batman v. Superman, Suicide Squad, Man of Steel to an extent — were fairly successful at the box office, they paled in comparison to the success of Wonder Woman, which shed the gritty tone in favor of optimism and sincerity.
In recent months, Warner Bros. made the emphatic decision to take notes from Wonder Woman and inject the DCEU with a brighter tone, starting with Justice League. One of these tone shifts will reportedly take place with Cyborg, or Victor Stone, played by Ray Fisher.
Joe Morton, who plays Victor Stone's father Silas Stone, told IGN that Cyborg's character was adjusted because the studio felt the film was "too dark":
"I know that with Ray [Fisher], the young man who plays Victor, there were some adjustments that they made in terms of the tone of that character. I think what I heard was that there was a need from the studio to lighten up the film in a way, that the film felt too dark. I don't know what that meant in terms of how it actually got translated in terms of the reshoots but that's what I heard. That's what I thought some of the reshoots were about."
We haven't seen much of Cyborg outside of the brief clip in Batman v Superman: Dawn of Justice in which a distraught Silas Stone experiments on his injured football player son, attempting to save Victor with cybernetic technology after a horrific accident. So whatever tone adjustment is taking place for Cyborg in Justice League should be fairly invisible to audiences, as we barely know the character yet.
In fact, despite the character's dark origins, this "lighter" tone for Cyborg is preferable. I'm admittedly mostly familiar with Cyborg through the Cartoon Network show Teen Titans, where the outgoing character had a self-deprecating sense of humor to cover his own existential anxieties. Although Cyborg is no longer a Titan thanks to the New 52 relaunch in the DC Comics, I would be open to a lighter Cyborg that reflects the one that I know and love.
Justice League also stars Ben Affleck, Gal Gadot, Jason Momoa, Henry Cavill, Ezra Miller and hits theaters on November 17, 2017.