Netflix Lassos The Coen Brothers' Western Series 'The Ballad Of Buster Scruggs'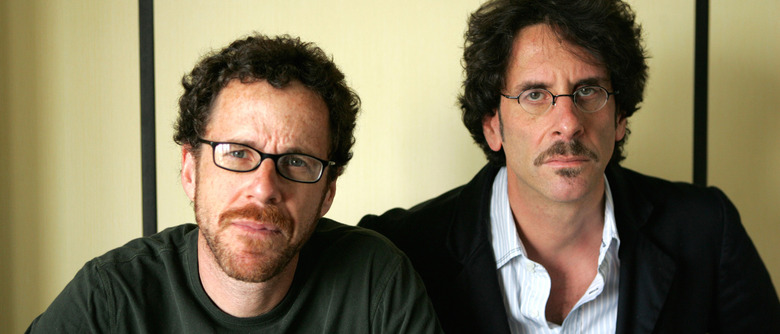 Joel and Ethan Coen's first TV project, the Western anthology series The Ballad of Buster Scruggs, has landed at Netflix. And on brand for the Coen brothers, they announced the production with some choice words that aren't publishable in the first paragraph. Avert your children's ears.
"We are streaming motherf***ers!" said Joel Coen and Ethan Coen.
"The Coens are visionary directors, masterful storytellers, and colorful linguists. We are thrilled for Netflix to become home to the full range of their talents," said Cindy Holland ,the vice president for Original Content for Netflix.
I kind of wish I could have just published the Netflix press release as is, because it is as wild and wacky a ride as an actual Coen brothers movie. While we knew that the Coen brothers were working on a TV project as far back as January, this is the first official confirmation of it being a Western anthology series made in conjunction with Annapurna Television.
The Academy Award-winning directing duo will write, direct, and executive produce the Netflix original series, which will be an anthology series following six stories set on the American frontier "told through the unique and incomparable voice of Joel and Ethan Coen."
Netflix continued with more details of the series:
Each chapter will feature a distinct story about the American West. The project will star Tim Blake Nelson as Buster, and many others.
Megan Ellison and Sue Naegle from Annapurna Television will also serve as executive producers, along with the Coen brothers' longtime collaborator Robert Graf.
The Western genre and anthology medium seem like a perfect combination for the Coen brothers, who have made films in both these veins with great success. The Western is a staple of the Coen brothers' films, and they've recently explored more anthology-style storytelling with Hail Caesar!, an homage to Golden Age Hollywood as told through whimsical, disconnected vignettes.
We got some details of what the six anthology stories would encompass in July:
"The Ballad of Buster Scruggs" is about a singing cowboy.
"Near Algodones" is about a high-plains drifter whose own fecklessness dogs his attempts at bank robbery and cattle driving.
The third story, "Meal Ticket," follows an actor and impresario of a traveling show.
The fourth, "All Gold Canyon," is about a prospector who happily finds a gold seam but then unhappily finds an evil encroacher.
The fifth, "The Gal Who Got Rattled," follows two trail bosses on the Oregon Trail and a woman on the wagon train who needs the help of one of them and who might be a marriage prospect for the other.
Lastly, "The Mortal Remains," about the five very different passengers on a stagecoach of mysterious destination.
The Ballad of Buster Scruggs is set to premiere in 2018.