'Star Wars: The Last Jedi': The Bond Between General Leia And Poe Dameron Explained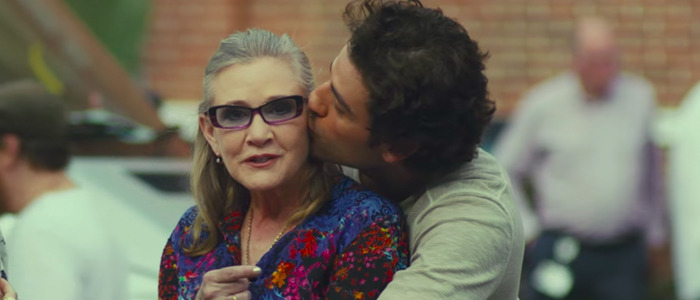 In the Star Wars: The Last Jedi behind-the-scenes sizzle reel that debuted at this year's D23 Expo, Carrie Fisher said the upcoming sequel is powerful because "it's about family." Sadly, her words have taken on a whole new meaning in the wake of her sudden death at the end of last year: it will now be about watching the final time this actress – who, for many fans, has felt like a part of their pop culture family for 30 years – steps into the role of Princess-turned-General Leia, one of the most iconic sci-fi heroes ever conceived.
In Entertainment Weekly's latest barrage of Star Wars news, there's a story about the bond Leia shares with Oscar Isaac's Resistance pilot Poe Dameron, her impact on his growth as a leader, and the vulnerable place we find the Resistance at the start of the new film.
Star Wars: The Last Jedi writer/director Rian Johnson says that Leia's character "to some degree or another has been defined by loss through this whole saga, starting with the loss of her home planet. She's just taken hit after hit, and she's borne it, and she focuses on moving forward and the task at hand." In The Last Jedi, Leia is mourning the death of her husband Han Solo, who was murdered at the hands of their son, Adam Driver's Kylo Ren. The suffering the character has gone through is something that Johnson spoke to Carrie about when he started writing Episode 8.
We've previously been told that despite Fisher's death, her role will not be retroactively changed in this film. But according to Johnson, "watching the film, there's going to be a very emotional reaction to what she does in this movie." We've also heard that Leia's impact will be felt for years to come, even though she may never appear on screen in a Star Wars movie again.
Leia's character in The Last Jedi has a special relationship with X-wing pilot Poe Dameron, played by Oscar Isaac. Poe is "in some ways a surrogate son for Leia," Isaac tells EW. "But also I think she sees in him the potential for a truly great leader of the Resistance and beyond." It seems as if Leia is encouraging Poe to take up more of a leadership role in the Resistance:
"Poe's arc is one of evolving from a heroic soldier to a seasoned leader, to see beyond the single-mindedness of winning the battle to the larger picture of the future of the galaxy," Isaac says. "I think Leia knows she won't be around forever and she, with tough love, wants to push Poe to be more than the badass pilot, to temper his heroic impulses with wisdom and clarity."
Don't expect the Resistance to fill that void of the Republic, who were destroyed by the Starkiller Base in Star Wars: The Force Awakens. Johnson says the Resistance is "a small band that's now cut off, on its own, and hunted when the Republic is shattered." The fact that the republic is no more means that the Resistance is "isolated, and they're very, very vulnerable." And while the First Order took a huge hit at the end of Episode 7, they are still a massive organization primed to take over the galaxy.
And don't expect a slow build, either. Johnson mentions that the heat is "immediately turned up on the Resistance," with everyone being "put in a pressure cooker right away, and relationships crack and strain under that pressure." I wonder if that includes any friction between Leia and Poe?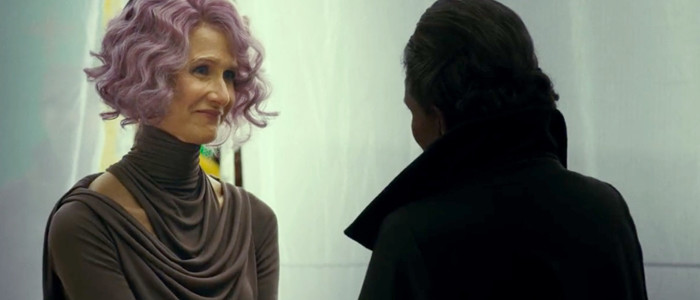 Meanwhile, Laura Dern's character, Vice Admiral Holdo, is a commander in the Resistance who likely has a history with Leia Organa. Johnson says part of the fun of this movie is figuring out what Holdo's relationship is with the other characters in the film. Is she an adversary or a friend? The behind the scenes video that was released at D23 Expo shows Leia and Hondo having what appears to be a very friendly meeting, but maybe there is some underlying deception going on within this small but growing resistance? We do know at some point in the film she picks up a blaster and gets in the middle of some intense action.
The Last Jedi should mark the final time we'll see Fisher on screen as General Leia; Lucasfilm president Kathleen Kennedy revealed that Episode 9 co-writer/director Colin Trevorrow started over with that script following her death and she won't be a part of that sequel, so we'll cherish seeing her one last time in a galaxy far, far away later this year.Star Wars: The Last Jedi arrives in theaters on December 15, 2017.