'Our Souls At Night' Trailer: Robert Redford And Jane Fonda Feel The Love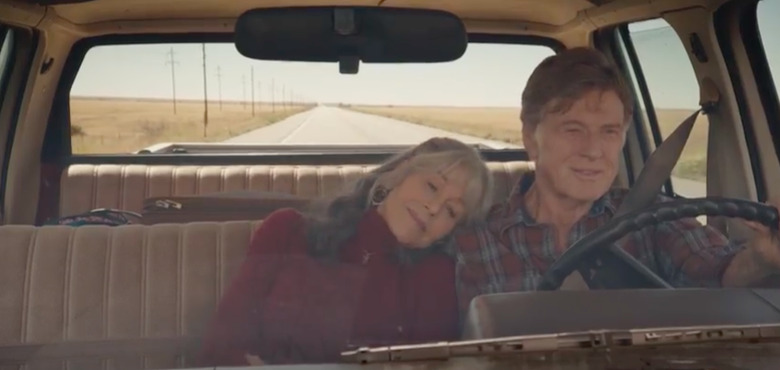 Robert Redford and Jane Fonda are working together for the fourth time in their careers. They most famously starred in Gene Saks' Barefoot in the Park, but they first appeared together in Arthur Penn's The Chase. In 1979, they both starred in The Electric Horseman. Next month, we can see the two acting titans back together in a new movie from Netflix, Our Souls at Night.
Below, watch Our Souls at Night trailer.
Ritesh Batra's (The Lunchbox) movie is based on Kent Haruf's novel, which was adapted by The Fault in Our Stars scribes Scott Neustadter and Michael H. Weber. Fonda plays Addie Moore, whose husband passed away years ago. One day she visits her neighbor, Louis Waters (Redford), who's been a widower for years. Like Addie, his children live far from home. The two of them begin a relationship, which is teased in this lovely teaser, which features them enjoying a drive together.
Sometimes, all a good teaser needs is a warm scene with Jane Fonda and Robert Redford smiling and driving. That's enough in this case. Fonda and Redford have both worked with Netflix in the past. Fonda stars in the series Grace and Frankie, while Redford starred in Charlie McDowell's The Discovery.
Our Souls at Night will be one of Redford's final performances, according to the actor. He's going to focus on directing after what he calls "a love story for older people who get a second chance in life" is released on Netflix, and after David Lowery's The Old Man and the Gun comes out next year. Lowery told us his movie, which will feature the very final Redford performance, is a tribute to the actor.
Here's the official synopsis:
Based on the best-selling novel written by Kent Haruf and adapted for the screen by Scott Neustadter and Michael H. Weber ("The Fault in Our Stars"), Our Souls at Night is set in Colorado and begins when Addie Moore (Jane Fonda) pays an unexpected visit to a neighbor, Louis Waters (Robert Redford). Her husband died years ago, as did his wife, and in such a small town they'd been neighbors for decades, but had little contact. Their children live far away and they are all alone in their big houses. She seeks to establish a connection, and make the most of the rest of the time they have.
Our Souls at Night will be available to stream on Netflix on September 29.