New 'It' Photo: Pennywise Strikes A Sinister Pose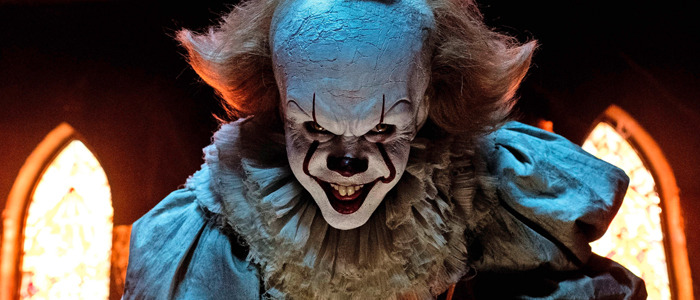 After the disappointment of The Dark Tower, Stephen King fans are hoping that Andy Muschietti's movie adaptation of It washes the sour taste out of our mouths with a heaping helping of horror. Now a new image of Bill Skarsgård as Pennywise the Dancing Clown has surfaced, and it's our best look yet at the preferred form of the frightening entity.
Empire debuted the new Pennywise photo today, and you can take a closer look by clicking on it to enlarge: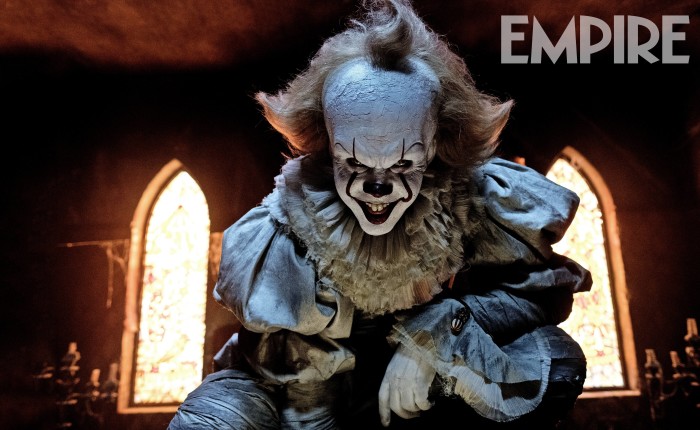 While we've largely seen stills of Pennywise draped in shadows, poking his head out of sewers, or being otherwise partially obscured, this is the brightest and clearest image we've seen of him yet. He's posted up on what appears to be an altar in some kind of bizarre clown church, a location we see more clearly in the film's latest trailer and which may be inside It's lair in the sewers under the town of Derry, Maine. I'm guessing that in the movie, this location will be in Richie Tozier's mind, possibly even a dream sequence that shows how It is infecting the members of the Losers Club by tapping into their biggest fears.
As for Pennywise's clothes, they're a lot different than the brightly lit, Bozo the Clown-style costume that Tim Curry wore in the 1990s TV mini-series. During his visit to the movie's set, /Film's Jacob Hall spoke with producer Barbara Muscietti about Pennywise's new look and she said that since It is (spoiler alert?) actually an ancient, shapeshifting being, they basically decided that Pennywise chose this look from his time in the 1800s and liked it so much that he hasn't updated to a more modern costume. The result is even more frightening, because there's something almost primordial about that look – and, crucially, this take on the character will be something international audiences will likely be more frightened of, as well. Globally, clowns are generally viewed as more pathetic than scary, so adding this ancient, almost ritualistic vibe to Pennywise enhances his scariness.
When children begin to disappear in the town of Derry, Maine, a group of young kids are faced with their biggest fears when they square off against an evil clown named Pennywise, whose history of murder and violence dates back for centuries.
It opens on September 8, 2017. Be sure to read more of Jacob's set visit reports here and here if you haven't yet. What do you think of this new version of Pennywise?