Ruth Negga Joins Brad Pitt In James Gray's Sci-Fi Epic 'Ad Astra'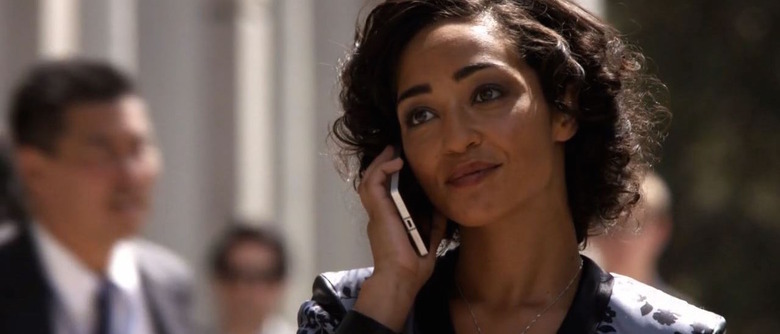 Ruth Negga will be reuniting with her World War Z co-star Brad Pitt in James Gray's upcoming sci-fi epic, Ad Astra.
The Lost City of Z (which if you haven't seen it, is entirely unrelated from the aforementioned World War Z unless you really stretch it) director has been building anticipation for his next movie, which will be the first genre film he tackles after working mostly on historical and contemporary dramas.
Negga has been cast in an undisclosed role in Ad Astra, according to The Hollywood Reporter. She'll be joining lead actor Brad Pitt as well as Tommy Lee Jones, who plays Pitt's father in the film.
Negga was nominated for an Oscar for her work in Loving and she has become one of the most exciting rising stars in both genre entertainment and prestige flicks. She's currently starring in AMC's pulpy comic book adaptation Preacher, where she chews up the scenery as trained hitwoman Tulip. Her star has risen through supporting roles in films like World War Z, 12 Years a Slave, and Warcraft, but I still remember first seeing her steal the shows in Misfits and Agents of S.H.I.E.L.D. Now with an Oscar nomination under her belt, she can properly star opposite Pitt (she really was just part of an ensemble in World War Z) in a movie by an acclaimed director like Gray.
Ad Astra will follow Brad Pitt's character, a space engineer named Roy McBride, as he searches for his missing scientist father, who has disappeared on a mission to Neptune while hunting for extraterrestrial life. The Hollywood Reporter describes the sci-fi epic as:
"[A]n adventure film about one man's journey across a lawless and unforgiving solar system to find his missing father, a renegade scientist who poses a threat to all of mankind."
Ad Astra will be the latest film made in the partnership between New Regency and Plan B, the production company founded by Pitt. The partnership has spawned Oscar-nominated fare like The Big Short and Oscar winner 12 Years a Slave.
This is Gray's first venture into genre filmmaking, having made his name with the lush historical drama Lost City of Z, as well as films like The Immigrant, Two Lovers, and We Own The Night. However, Gray has told Collider that he wants to bring his brand of stunning realism to the sci-fi genre with "the most realistic depiction of space travel":
"I'm terrified by it. The science-fiction genre is so tricky because there are elements of fantasy usually involved, and there are also fantastical elements. What I'm trying to do is the most realistic depiction of space travel that's been put in a movie and to basically say, 'Space is awfully hostile to us.' It's kind of a Heart of Darkness story about traveling to the outer edge of our solar system. I have a lot of hopes for it but it is certainly ambitious..."
Ad Astra is set to go into production in September.