'Mother!' Trailer: Jennifer Lawrence Has Unwanted Houseguests In Darren Aronofsky's Horror Thriller
The newest trailer for Darren Aronofsky's horror movie mother! debuted tonight, and it looks like he's putting another protagonist through the psychological gauntlet. This time it's Jennifer Lawrence, who plays a seemingly loving wife to Javier Bardem's character and becomes increasingly unhinged as more and more people start showing up to their home unannounced. This looks creepy in all the right ways.
mother! trailer
"They've come here to see me," says Bardem's character, and in a trailer packed with mysterious imagery, I feel comfortable saying that he looks like he may be the leader of some kind of cult – I'm feeling some vibes similar to those in Karyn Kusama's The Invitation. I'm also picking up on a bit of a throwback to What Lies Beneath with Michelle Pfieffer being scary in an old house, so that ought to be a lot of fun. "You give, and you give, and you give," she says, "it's just never enough." Is this entire movie a metaphor about relationships? Aronofsky has touched on that theme before, but that'd be an interesting topic for him to explore in a deeper way with this movie.
For me, though, the trailer's most eerie moment is when Lawrence's character looks through a window and sees dozens of people on her lawn with flashlights (no spoilers, but again, some shades of The Invitation there). There might even be some supernatural elements at play here, as the couple's happy and newly-restored home seems to be burning away before our eyes late in the trailer. It looks like Aronofsky has a bunch of different influences shining through in this one, and I'm looking forward to learning this film's secrets when it arrives next month.
Here's the new poster for mother!, which features Lawrence's face being chipped away like a china doll – perhaps mirroring her psychological state, similar to how Aronofsky explored mental breakdowns in Black Swan: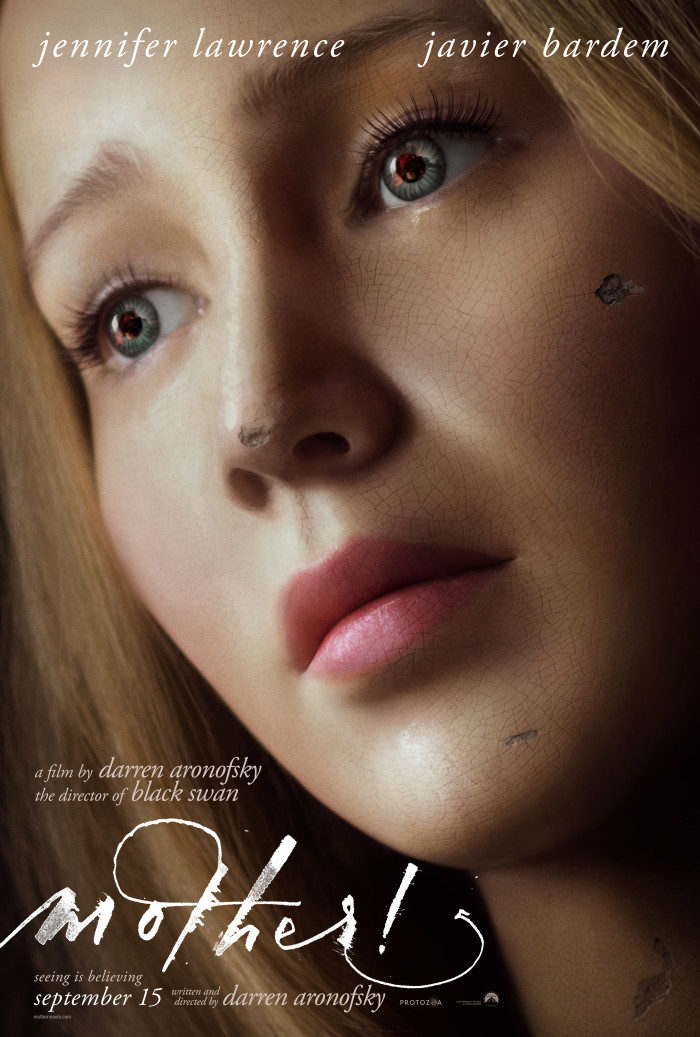 Aronofsky is directing the film (his seventh) and wrote the screenplay, and the film's official description is appropriately vague: "A couple's relationship is tested when uninvited guests arrive at their home, disrupting their tranquil existence." Jennifer Lawrence, Javier Bardem, Michelle Pfeiffer, Domnhall Gleeson, Ed Harris, and Kristen Wiig star, and Jóhann Jóhannsson (Sicario, Arrival) will compose the score.
mother! makes its debut at the Venice Film Festival before traveling to the Toronto International Film Festival, and the non-festival-going crowd will be able to see it when it hits theaters on September 15, 2017.