FX To Launch Ad-Free Streaming Subscription Service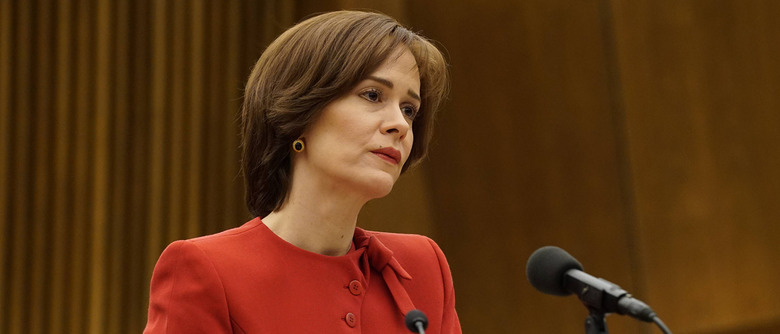 You can stream on if you think that FX won't get in on the cord-cutting fun.
The cable network responsible for such critically lauded fare like American Horror Story, Atlanta, Fargo, It's Always Sunny in Philadelphia, The People v. O.J. Simpson: American Crime Story, and Legion is launching an ad-free subscription service called FX+. There's a catch however, the service is only available to those who have a Comcast Xfinity subscription and who are willing to shell out an additional $5.99 a month. You gotta really want those ad-free American Horror Story viewings.
FX+ will be launched in September, according to The New York Times. In addition to its current shows, the streaming service will offer whole catalogs of dozens of past FX series, including The Shield, Nip/Tuck, Sons of Anarchy, and Rescue Me.
FX's chief executive, John Landgraf, said in a statement:
"This initiative represents the first of its kind for an ad-supported cable network, and begins to put us on equal footing with premium networks and streaming services."
While this is great news for fans of the shows not readily available on other streaming services, the presence of shows like Atlanta on Hulu, and It's Always Sunny and The People v. O.J. Simpson: American Crime Story on Netflix may throw a wrench in FX's plans. I think it's safe to assume that FX may soon be following HBO Go's model and taking their series off of other streaming services to offer them exclusively on FX+.
FX+, which was created in partnership between FX and Comcast, draws some parallels to Comcast and AMC's simultaneous broadcast subscription service AMC Premiere, which soft-launched in June for $5 a month. However, AMC only offers current seasons of existing shows while FX+ will feature more than 1,100 episodes of library titles.
Because of FX's streaming deals with Hulu and Netflix however, there are still a few limitations. Only two of the network's current shows, American Horror Story and It's Always Sunny in Philadelphia, will have all of their episodes available on demand. Only a few of their other big hits, including Atlanta, Fargo, and American Crime Story, will have their current seasons available to subscribers to the new service.
FX joins the crowded field of cable-to-streaming networks, including HBO Go/Now, AMC Premiere, and CBS All Access, which will be the first to premiere an original series solely on the digital platform with Star Trek: Discovery. Because most of these still require a cable subscription, it's not on the same level of cord-cutting as Netflix and Hulu, but the networks seem to be working toward that goal.