Mr. Robot Season 3 Trailer: "Democracy Is Coming To The USA"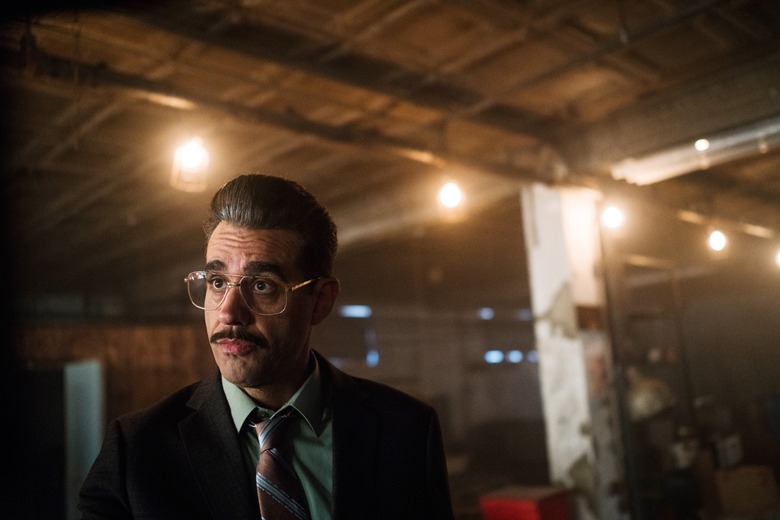 USA Network has unleashed the first trailer for Mr. Robot season 3, revealing a Fall premiere date for the series, and our first look at Bobby Cannavale's character Irving (seen above). Watch the Mr. Robot season 3 trailer below!
Mr. Robot Season 3 Trailer
The new trailer is tense, showing the aftermath of season 2. As you might recall, convinced that Tyrell was not real, Elliot tried to undo the firmware hack, but was shot by the very real Tyrell in the process. Stage 2 has begun with them taking out E-corps paper records, which will surely send society into a deeper level of chaos. The trailer shows a bit on this, and the tremendous tension going into the third season. It seems like more of a horror movie than a dramatic television series. Martin Wallström narrates the trailer as Tyrell Wellick, reciting the words from Leonard Cohen's "Democracy." I hope the show doesn't get too serious and lose sense of its trademark dark humor throughout all of this.
The trailer was unlocked by fans through a viral marketing campaign, taking the form of a social media scavenger hunt orchestrated by the network. Alongside the trailer was the news that Mr. Robot will return for its 10-episode third season on Wednesday, October 11, 2017 at 10/9c.
The first image of Bobby Cannavale's highly-anticipated character Irving was also revealed on Mr. Robot's social media, introducing eager fans to the "laconic, no-nonsense used car salesman." Followers were encouraged to closely watch the show's Twitter handle in the coming hours for more news surrounding season 3, and savvy fans noticed an embedded code in the photo which led to hidden clues of how to decrypt what was about to happen. The official WhoisMrRobot twitter account began a tweet storm, revealing clues driving to a private URL revealing the exclusive trailer and premiere date.
MR. ROBOT follows Elliot Alderson (Rami Malek), a cyber-security engineer who, along with Mr. Robot (Christian Slater) and fsociety, starts a revolution to change the world. Picking up immediately following the Season 2 cliffhanger, Season 3 will explore each character's motivations and the disintegration between Elliot and Mr. Robot. From Universal Cable Productions, MR. ROBOT stars Emmy® Award winner and Golden Globe® nominee Malek, Golden Globe Award winner Slater, Portia Doubleday, Carly Chaikin, Martin Wallström, Grace Gummer, Michael Cristofer, Bobby Cannavale, Stephanie Corneliussen and BD Wong. The series hails from writer and executive producer Sam Esmail as well as Anonymous Content executive producers Steve Golin and Chad Hamilton.
Mr. Robot season 3 will premiere on October 11, 2017.