'American Vandal' Trailer: Netflix Mocks Its Own True Crime Docs With A Satire About Penis Drawings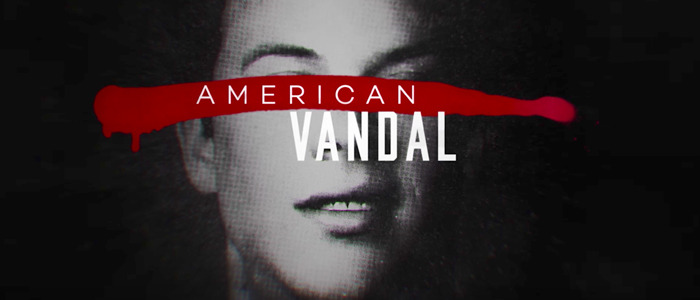 With Making a Murderer, Amanda Knox, and The Keepers, Netflix has fully embraced the true crime documentary format in a big way, and those projects generated significant buzz surrounding the streaming service.
At first glance, their new docu-series American Vandal looks like another project that fits alongside the aforementioned docs, but it wasn't long before I realized this show – which, yes, centers on spray-painted penis drawings – is actually Netflix's way of satirically mocking the very format it's seemingly leaned into in the past few years.
American Vandal trailer
I'll admit, I laughed out loud when I watched this trailer for the first time. The way it handles this dick-centric vandalism "case" with deadly seriousness is spot-on with the way other Netflix properties have handled their cases. But here's the thing: those were real cases about actual people's deaths, and I can't shake the feeling that this feels like a mean-spirited attack on, for example, the amateur detective women who headline The Keepers.
I'm not here to say that co-creators Tony Yacenda (Pillow Talking) and Dan Perrault (Honest Trailers) and showrunner Dan Lagana (Zach Stone Is Gonna Be Famous) shouldn't be allowed to poke fun at this format. Again, I laughed at the way they set this up and seem to be tackling all of the tropes of the genre. But for this show to come from the same streaming service that produced some powerful, and dare-I-say important products that shed light on serious institutional issues in this country, it feels flippant and...well, frankly like a dick move. Pun obviously intended.
Here's the other thing: this is an eight-episode original series. Can this premise really sustain eight half-hour episodes? Sure, there might be some nice fake bombshells to drop at the end of an episode or two, but I wonder if this whole thing might start wearing a bit thin by the time we get halfway through it. What do you think?
American Vandal is a half-hour true-crime satire that explores the aftermath of a costly high school prank that left twenty-seven faculty cars vandalized with phallic images. Over the course of the eight-episode season, an aspiring sophomore documentarian investigates the controversial and potentially unjust expulsion of troubled senior (and known dick-drawer) Dylan Maxwell. Not unlike its now iconic true-crime predecessors, the addictive American Vandal will leave one question on everyone's minds until the very end: Who drew the dicks?
American Vandal arrives on Netflix just over a month from now, on September 15, 2017.