'Legends Of Tomorrow' Season 3 Adds Gorilla Grodd To Its Villain Line-Up [TCA 2017]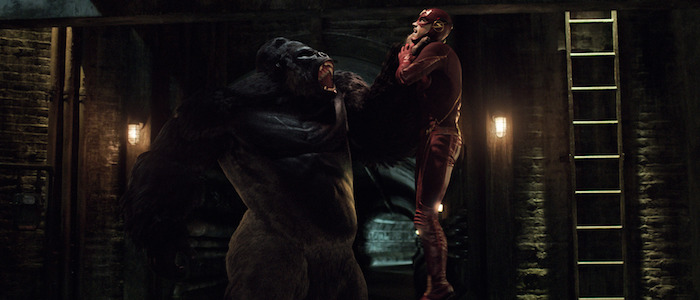 During a Television Critics Association panel for Legends of Tomorrow, producer Marc Guggenheim revealed that Gorilla Grodd would be one of the villains in the show's third season. Speaking with reporters after the panel, Guggenheim confirmed that the Legends would encounter Grodd after the two-part Gorilla City episode of The Flash last season.
"It's not a direct pickup from the two part Flash episode," Guggenheim said. "It's a post-Gorilla City Grodd. He'll be part of this group of villains. We're going to have a group of villains that's going to have a little bit more of a rotating membership than we had last year. We want to give you the sense of a group like we had last year because that was a lot of fun. There will be a little bit more rotation also so we can also give you a little bit more variety."
In adding Gorilla Grodd, a major VFX character, Guggenheim confirmed he would not be needed on The Flash. "It was a conversation because any time we take a character from one of the other shows, we have to have a conversation like, 'Are you planning on using Grodd? When would you be using Grodd?'" Guggenheim said. "Same thing when we got Cisco or Felicity on Legends or if Felicity goes over to Flash. We're all on the same floor and we all talk to each other. We have to. Otherwise, there are times we wanted one character to be on one show and it's like no, that character's in a coma that week. We don't have full control over the broadcast but we do write with an eye towards what we think the broadcast air dates would be. We try to make sure all the stories are talking to each other in that sense."
The new group of villains may have a name from the DC canon, like last year's Legion of Doom. "I have a name for them that I would love to see referenced on the show," Guggenheim said. "Sort of like the Legion of Doom, we've got to figure out a way to get it in there."
Neal McDonaugh will return as Damien Darhk, leading this group of villains. "This group is distinctly led by Damien," Guggenheim said. Wentworth Miller is also returning as Leonard Snart.
A new hero joins the Waverider. Tala Ashe plays Zari, a Muslim superhero. Zari is based on the comic book character Isis. Guggenheim said they chose not to refer to Isis for fear of connotations of the terrorist group ISIS.
"We just didn't want the baggage quite frankly," Guggenheim said. "Especially given the fact that we're doing a Muslim superhero, it was like opening a can of worms that there's no percentage in it."
Ashe herself spoke about Zari during the panel. "The legends meet Zari in 2042 and 2042 is a pretty bleak dystopian police state," she said. "Zari is speaking truth to power in the ways she can. One of those ways is she's a hacktivist. She encounters the Legends and I think there's sort of a philosophical challenge there. She sees they're going to fix these anachronisms in history but she challenges them is there a way to be legends and be humanitarians, try to improve history, not just fix history. There's going to be some tension there and also she's very guarded because of what she has to endure in her world. I think she's reticent to go into the fold of the Legends at first."
Arthur Darville returns as Rip Hunter in the season premiere and one episode goes back to Ray Palmer's (Brandon Routh) childhood. Guggenheim also encouraged fans to look for Easter Eggs in the Legends of Tomorrow season three trailer.
"I would watch the Legends trailer really carefully," he said. "There's two Easter eggs in there that I think are a lot of fun."
Legends of Tomorrow returns October 10 on The CW.