Chiwetel Ejiofor In Talks To Voice Scar In Jon Favreau's 'The Lion King'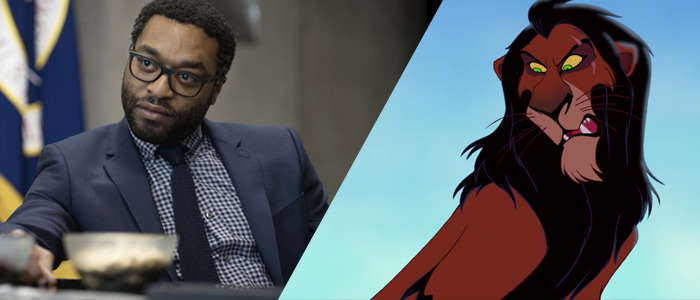 The cast of Iron Man director Jon Favreau's new take on Disney's The Lion King keeps getting better and better. 12 Years a Slave and Doctor Strange star Chiwetel Ejiofor is currently in talks to provide the voice of Scar, Mufasa's villainous brother who takes over the kingdom during Simba's absence.
The Wrap and THR both report that Ejiofor is in talks to lend his voice to a cast that already includes Donald Glover as Simba, James Earl Jones reprising his thunderous baritone as Mufasa, Last Week Tonight host John Oliver as the mouthy bird advisor Zazu, and Billy Eichner and Seth Rogen as Simba's newfound friends and comedic relief characters Timon and Pumbaa. (There were rumors that Favreau wanted Beyonce to voice the female lead, Nala, but that hasn't panned out...yet.)Jeremy Irons (Batman v Superman: Dawn of Justice) did an excellent job providing the voice of the sinister villain in the 1994 animated classic, delivering vocal work that practically dripped with disgust and lent the Shakespearean gravitas appropriate for a story which is essentially a retelling of Hamlet. Ejiofor, who played a subdued but ferocious villain in Joss Whedon's Serenity (the film continuation of his ill-fated TV sci-fi western Firefly), seems like a solid casting choice to be a new version of Scar.
It will be especially interesting to see how much Favreau utilizes the memorable songs from the original film, considering how how much his "live-action" version of The Jungle Book was dinged for being sort of half-assed with its music. (As I recall, that film basically only featured three songs, one of which wasn't even sung in its entirety.) But with Simba being played by Donald Glover, who has a successful music career as rapper Childish Gambino, I wouldn't be surprised if we hear some more tunes in this version of the Disney tale.
Can you imagine Ejiofor chewing out his moronic hyena lackeys, or breaking out into a version of Scar's signature song "Be Prepared"? That ought to be fun.
Favreau showed off some brief, photo-realistic footage of the movie at this year's D23 Expo, and the fans there went absolutely nuts for it. It's also worth noting that there were some rumors going around that X-Men star Hugh Jackman might be playing Scar in this version of the story, but that wasn't confirmed at D23 and ended up being a false lead.
The Lion King arrives in theaters on July 19, 2019.