'Miami Vice' Reboot Coming From 'Fast & Furious' Collaborators Vin Diesel And Chris Morgan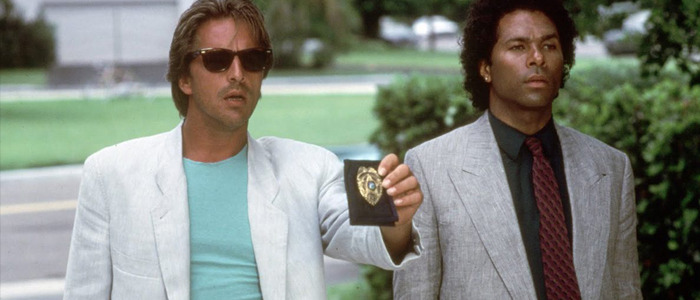 It looks like Detectives Crockett and Tubbs are coming back to NBC. A new report says that Vin Diesel and Chris Morgan, two of the major creative forces behind the Fast & Furious film franchise, are collaborating on a small-screen reboot of Michael Mann's classic cop series Miami Vice. Mix yourself a mojito and meet me below for all the info we know so far about the Miami Vice reboot.
Variety says Diesel's One Race Television is teaming up with Morgan's Chris Morgan Productions to develop a new version of Miami Vice at its old network home. Peter Macmanus, who's written a handful of episodes of a USA show called Satisfaction and a single episode of the new Spike TV adaptation of The Mist, has been tapped to write the script, which will be "based on the original series." If the network picks up the series, it's expected that Macmanus, Diesel, and Morgan will all have executive producer credits.
The original NBC television crime drama ran for five seasons from 1984–1989, and starred Don Johnson as James "Sonny" Crockett and Philip Michael Thomas as Ricardo "Rico" Tubbs, two Metro-Dade Police Department detectives who worked undercover in the south Florida city. Michael Mann produced the original series, and then adapted it into a film starring Colin Farrell and Jamie Foxx in 2006. While the series was lauded for its stylish, New Wave-inspired take on the cop show formula and famous for its pastel color palette, the film (which made $168 million worldwide) was notably darker and shot in the digital style Mann embraced later in his career. There's no word about Mann's involvement with this new iteration of the project.
Back in 2014, Universal was reportedly considering making another Miami Vice film that was intended as a reboot of Mann's '06 version. Jamie Foxx was reportedly difficult to work with on the first movie's set, demanding top billing after winning his Oscar for Ray, so it's not surprising the studio wouldn't want to bring him and Farrell back for a direct sequel. If that 2014 report was true, the studio never made any moves toward locking down a writer or director and subsequently let the project fall away.
The original series was a cultural touchstone that had a huge impact on the way we think about 1980s culture, so a modern reboot seems like a tall order. But Diesel and Morgan definitely have experience with the action that typified an episode of the old show, and I don't think they'll have any trouble bringing fast cars, shootouts, and sun-kissed cinematography to the small screen here. But who should play the new versions of Crockett and Tubbs? How about some out-of-the-box choices, like Mary Elizabeth Winstead and Gina Rodriguez? I'd totally watch that. Leave your own suggestions in the comments below.