What Happened To Mike Flanagan's Long-Delayed 'Before I Wake'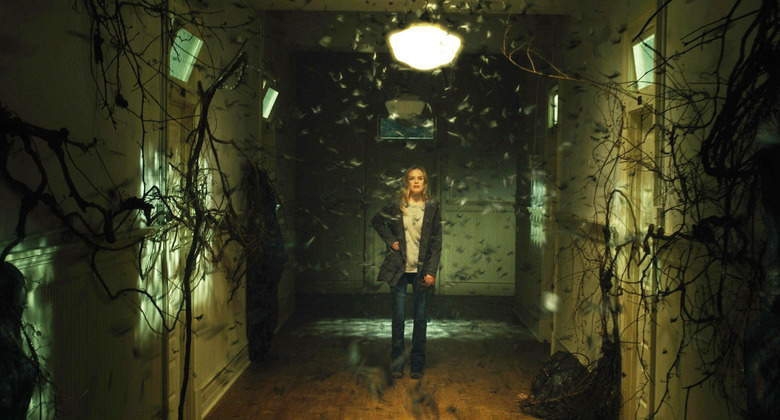 Before I Wake was completed in 2013. Relativity acquired Mike Flanagan's (Oculus) horror movie a year later and set a release date for May of 2015. The film, which stars Thomas Jane, Kate Bosworth, and Jacob Tremblay, was pushed back four months. After Relativity ran into some serious financial troubles, its release date was scrapped. Then it was scheduled to come out in April of last year, but then it was then pulled off the release calendar. We've heard little about the movie's status. Until now.
Below, Flanagan explains what happened to the Before I Wake release plans.
Before I Wake was going to get a wide release from Relativity following the success of Oculus. The story is about an 8-year-old boy (Tremblay) whose dreams become a reality when he falls asleep. Most of them are not pleasant dreams. The movie was released overseas in some territories. If you live in the U.K., you can stream it on Netflix.
What's prevented it from coming out in the States? Relativity went bankrupt. A new distributor could still make the release happen, though. Flanagan told Entertainment Weekly he's still hopeful the movie will come out. "I'm very proud of the movie," he told them, "and we have a number of avenues that could get it to its audience, even if it doesn't end up being a wide release."
While on the Post Moterm podcast (via Playlist), Flanagan recounted his unfortunate experience with Relativity:
It was a great deal [with Relativity], and it was a big fat wide release. Coming off of what they did with Oculus, it was like, this is going to be great. And so we sold the movie to Relativity, and we had a release date, and we were all set, and I moved on to the next project... And then things just got weird. Everything kind of stalled. We weren't getting trailers and posters and materials. It was kind of cagey. We didn't know it at first, but it was because of the collapse... And so they moved it off the date, and they didn't really have a good reason, and they didn't ask us to change anything, which was odd... And it was testing better than Oculus ever tested. We were in a really good place... We just couldn't get these materials.
The director, who went on to make the well-received Ouija: Origin of Evil, added:
It was like, "Well, where's the marketing materials?" We eventually found out that a lot of the vendors had cut them out because they had too much debt and so the vendors weren't turning the materials over... And then we started to really learn about how much trouble the company was in, and they finally came to us, and it was like, "Yes, we're going to file Chapter 11, but we're confident we're going to pull out of it." But they'd pushed the date back twice at that point, and we had had international buyers that had picked it up based on the wide release commitment in the States, and so we kicked and screamed and shook our fists, but there was no choice but to kind of wait it out and hope they emerged from bankruptcy and would pick up where they left off and do right by the movie.
There are a few reviews online for Before I Wake. Most of them aren't positive, but Flanagan is a promising director in the horror genre. He's crafted some impressive scares these past few years, which makes us curious about the long-delayed project. No matter the quality of Before I Wake, it's a shame a lot of Flannagan, the cast, and crew's hard work has yet to be seen in the United States. Thankfully, Flannagan seems confident we'll one day see the movie.