'Star Wars: The Last Jedi' Sends Off Carrie Fisher 'In An Amazing Way,' John Boyega Says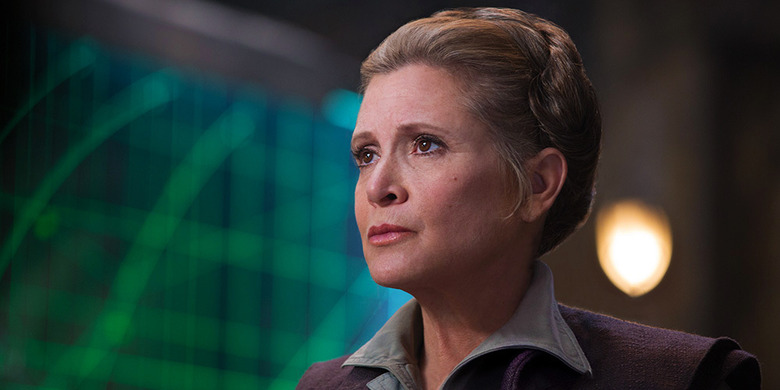 Carrie Fisher's untimely death was a blow to fans in this world and in a galaxy far, far away.
It was most of all a blow to the cast and crew of Star Wars: The Last Jedi, which would inadvertently be Fisher's last onscreen appearance as Princess, now General, Leia. But though this would be the last we see of Leia, The Last Jedi costar John Boyega promises that the film will send off her character properly. While Star Wars Episode 9 will have to deal with Leia's absence, The Last Jedi will at least offer a way for us to say goodbye to Fisher.
Fisher had finished filming all her scenes in The Last Jedi, but the franchise had planned on bringing her character back for Episode 9. However, because of her death, that would sadly not be the case. Boyega told ABC News (via The Hollywood Reporter) that Fisher's last onscreen appearance as General Leia will be treated with the grace befitting a princess.
"This movie, it sends her off in an amazing, amazing way. And she is still kept alive in this franchise. That's the beauty of it: She lives forever in a sense."
Lucasfilm President Kathleen Kennedy has said that The Last Jedi hadn't been altered to address Fisher's death, and Boyega's comments appear to hint that Leia will go on to live in the Star Wars universe after her last onscreen appearance. The Star Wars crew have said they won't use digital manipulation to insert Leia into Episode 9, so her absence will likely be explained offscreen.
While Boyega and Fisher didn't get many — or any — scenes together in 2015's Star Wars: The Force Awakens, Boyega promised that Finn and Leia will appear together many times in The Last Jedi.
"We worked together closely on this," he told ABC News.
Though the cast and crew are quickly moving on to work on Star Wars Episode 9, which will be helmed by Jurassic World's Colin Trevorrow, taking over from The Last Jedi's Rian Johnson, Boyega said that they will still never get over the shock they felt when they learned of Fisher's death in December last year.
"It was a strange, strange feeling," Boyega said. "I felt like everyone in the cast went silent for a bit after that."
Star Wars: The Last Jedi continues the story told in The Force Awakens, which brought the Star Wars franchise into the modern age with new heroes played by Daisy Ridley, John Boyega, and Oscar Isaac. Star Wars: The Last Jedi hits theaters December 15.