'Transformers' Spin-Off 'Bumblebee' Adds John Cena, Official Synopsis Revealed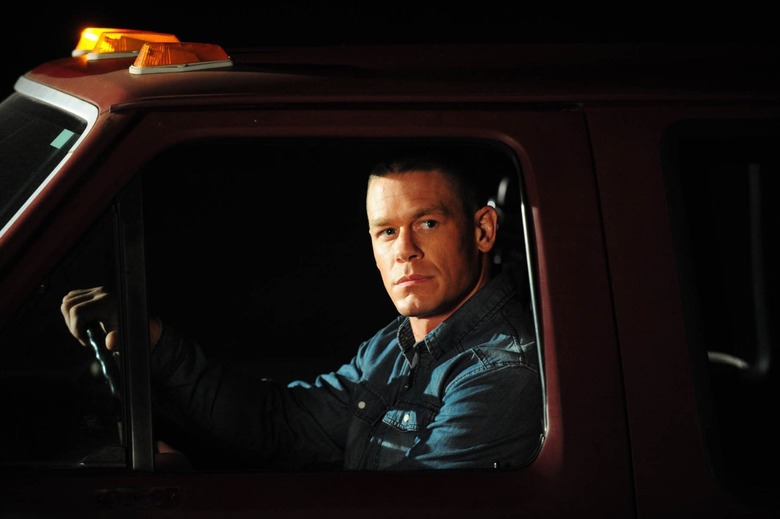 It's John Cena! The WWE superstar and actor with a surprisingly good comedic timing will be joining the Transformers spin-off movie, Bumblebee, in a lead role.
He'll be joining a cast led by Academy Award nominee Hailee Steinfeld and a slew of other young, diverse actors including Jorge Lendeborg, Jason Drucker, Abby Quinn, Rachel Crow, Ricardo Hoyos and Gracie Dzienny.
The news that Cena would be joining the Bumblebee movie in an unspecified lead role was reported by The Hollywood Reporter. The main character is played by Steinfeld, but it's possible that Cena will be playing an equal or supporting role to her. At the age of 40, Cena could feasibly play 20-year-old Steinfeld's dad, or the mechanic who owns the shop where Steinfeld's character works after high school. Considering his build, and the types of characters he tends to play, I'm banking on Cena playing the mechanic.
The Bumblebee movie will be a prequel to the Transformers films set in the 1980s, with a lighter, Iron Giant-inspired story written by Christina Hodson (Unforgettable) and helmed by Kubo and the Two Strings director Travis Knight.
Here's the official synopsis of Bumblebee from Paramount:
"On the run in the year 1987, Bumblebee finds refuge in a junkyard in a small Californian beach town. Charlie (Hailee Steinfeld), on the cusp of turning 18 and trying to find her place in the world, discovers Bumblebee, battle-scarred and broken.  When Charlie revives him, she quickly learns this is no ordinary, yellow VW bug."
The film is meant to be a step back from the CGI spectacles that are the main Transformers movies, focusing on the "intimate" story about a girl and her car, Transformers producer Lorenzo di Bonaventura told Den of Geek:
"I think Bumblebee is an incredibly loved character. You pick (director) Travis Knight for a very specific reason. His movies are pretty extraordinary, Kubo and the Two Strings in particular. What we're trying to do is deliver, a love story may be too strong of a term, but it is a coming of age for Bumblebee and our lead character, Hailee Steinfeld. The two of them, their job in the movie is to support each other to get to the place where they both fully realize who they are in that moment. It's a very different kind of story. That plot is there, but it's very muted, relative to the larger Transformers movies."
Where Cena will factor into this, it's unknown. While Cena has proven to be an unlikely comedic actor, stealing the scenes in movies like Sisters and Trainwreck, the Bumblebee movie may be where he will get to stretch his dramatic chops, considering the sweet, coming-of-age film that Bonaventura is describing. I would be perfectly happy if the film takes advantage of comedy skills, however. And while it's unlikely that Cena will change his signature buzz cut hair to match the fashion of the '80s, I can dream about him donning a mullet akin to that gaudy wig he sported in his SNL gig.
Paramount has updated the release date for the Bumblebee movie from June 2018 to December 21, 2018, which puts the film opposite Warner Bros.' Aquaman.