'What Happened To Monday' Trailer: Noomi Rapace Plays Multiple Roles In Netflix's Futuristic Thriller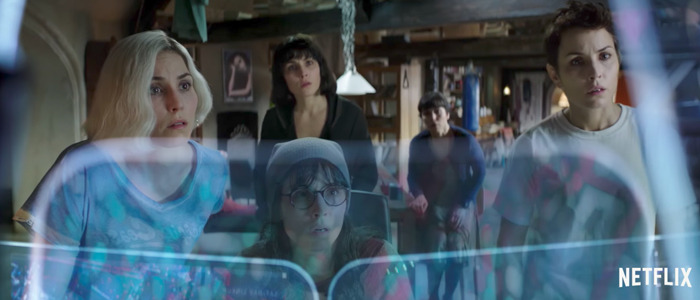 Netflix has unveiled a new trailer for a dystopian thriller called What Happened to Monday that features Noomi Rapace (The Girl with the Dragon Tattoo) playing seven identical twin sisters whose very existence is a crime: they've secretly grown to adulthood in a world in which every family is only allowed to have one child. This looks like a ridiculously fun B-movie, and I can't wait to check it out. Watch the trailer below.
What Happened to Monday trailer
Glenn Close and Willem Dafoe chewing scenery in a dystopian future? Noomi Rapace pulling an Orphan Black and interacting with other versions of herself in a single frame? The "guy in the van" trope recently seen in Spider-Man: Homecoming, but with six remaining versions of Noomi Rapace (Rapaces? Rapaci?) guiding their on-the-run sister from their apartment? Rapace throwing her head back and screaming as she blasts an automatic weapon? Oh yeah, I'm totally in for this.What Happened to Monday was written by Max Botkin and Kerry Williamson, and appeared on the Black List (a list of Hollywood's best unproduced screenplays) all the way back in 2010. Director Tommy Wirkola (Dead Snow, Hansel and Gretel: Witch Hunters) cast Noomi Rapace in the lead roles even though they were originally written to be men, and the film was eventually retitled Seven Sisters for international audiences (you can watch a different international trailer here), but it retained its original title when Netflix picked it up.
The concept is pretty far out there, but I admire its ambition and am looking forward to seeing how Wirkola handles a property that isn't quite as far-fetched as a brother-sister witch hunting team or Nazi zombies.
Here's the movie's poster: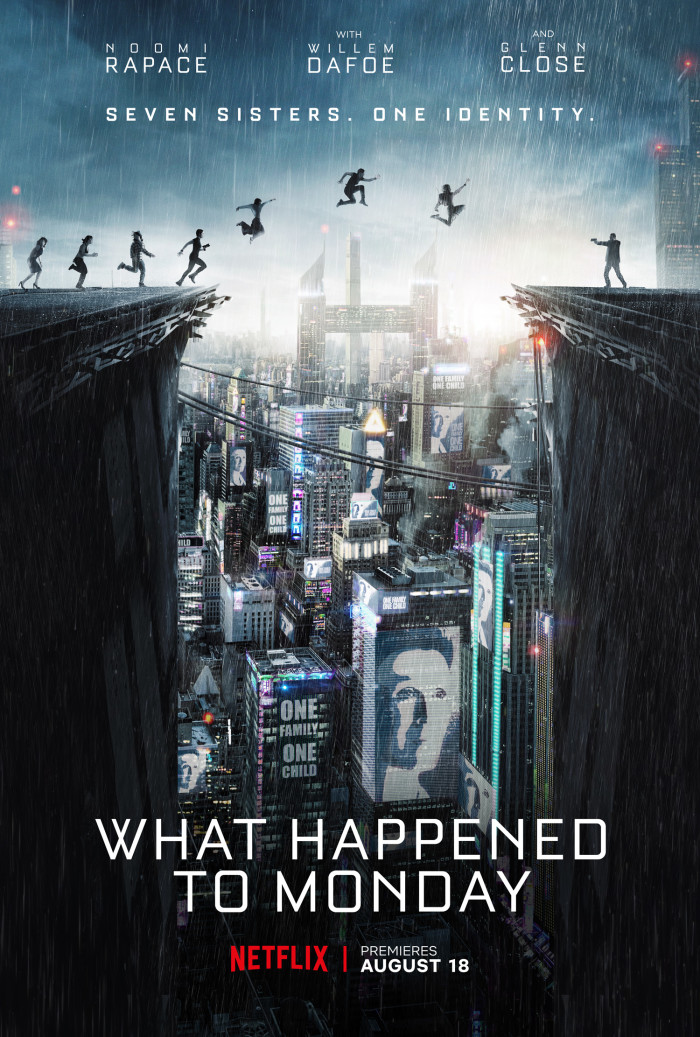 What Happened to Monday arrives on Netflix on August 18, 2017.
In a not so distant future, where overpopulation and famine have forced governments to undertake a drastic "One Child Policy," seven identical sisters live a hide-and-seek existence pursued by the Child Allocation Bureau. The Bureau, directed by the fierce Nicolette Cayman (Glenn Close), enforces a strict family-planning agenda that the sisters outwit by taking turns assuming the identity of one person: Karen Settman (Noomi Rapace). Taught by their grandfather (Willem Dafoe) who raised and named them – Monday, Tuesday, Wednesday, Thursday, Friday, Saturday, and Sunday – each can go outside once a week as their common identity but are only free to be themselves in the prison of their own apartment. That is until, one day, 

Monday

 does not come home...