Bryan Fuller Originally Planned For 'Star Trek: Discovery' To Be An Anthology Series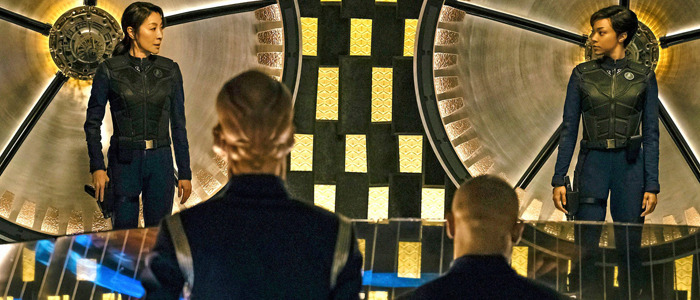 Star Trek: Discovery might have truly and boldly gone beyond what any Star Trek series had done before, if original showrunner Bryan Fuller were still at the helm.
Fuller, a passionate Trekkie who was long attached to the project before he left to devote all of his attention to American Gods, revealed that he had originally pitched Star Trek: Discovery to CBS as an anthology series. However, his high-concept vision for the series was thrown out by the network, and several other clashes led to Fuller's eventual ouster.
In a candid interview with Entertainment Weekly, Fuller talked about the circumstances of his departure from Star Trek: Discovery, namely, his unique vision for the first Star Trek television series in 12 years. Fuller said:
"The original pitch was to do for science fiction what 'American Horror Story' had done for horror. It would platform a universe of 'Trek' shows."
The multiple serialized anthology shows would begin with Star Trek: Discovery in an era before the original Star Trek before venturing through the times of Captain James T. Kirk and Captain Jean Luc Picard, and eventually exploring the future beyond what we've seen in the films and TV series.
This would be the first in a series of clashes with CBS, who wanted to first develop a single serialized series and see how it performed, EW reports. Fuller made this compromise but ended up at odds with the networks over several other issues: the choice of the director for the pilot, the budget, and Fuller's insistence on a woman of color at the helm.
Fuller has shown a knack for bringing visual flair to primetime television, as seen in the candy-colored Pushing Daisies and the Kubrickian Hannibal. And it seemed that he wanted to do the same for Star Trek: Discovery, lending the sci-fi series an eye-popping visual style that could be honed by an enterprising director — Fuller reportedly even approached Edgar Wright for the job. But CBS shut him down, hiring the more conventional David Semel (Madam Secretary, Code Black) for the job.
It was ultimately scheduling conflicts, with Fuller's dedication to the Starz show American Gods and CBS' goal of premiering the show in February 2017 to help launch CBS All Access, that led to Fuller's exit.
However, one thing did stay from Fuller's time at the captain's bay of Star Trek: Discovery: the casting of Sonequa Martin-Green to play lead Michael Burnham, a Vulcan-raised human Starfleet First Officer, and the second woman of color leading the show alongside Michelle Yeoh's Captain Philippa Georgiou. That almost didn't happen too with Martin-Green's Walking Dead schedule conflicts, but it worked out.
It's too bad that we didn't get to see Fuller's vision for a Star Trek series, which I'm positive would look unlike anything we'd seen before with the series. But Fuller and CBS' falling out is not a surprise either — CBS is a notoriously safe and conservative network. It's no wonder they balked at Fuller's ambitious take, but it's disappointing that they had to dangle the prospect of a Fuller Star Trek series in front of our noses at all.
Fuller doesn't seem bitter about his experience, however, telling EW:
"What I can say is...my reaction was that I was happy to see a black woman and an Asian woman in command of a Starship... I got to dream big. I was sad for a week and then I salute the ship and compartmentalize my experience."