Bryce Dallas Howard To Direct 'Sorta Like A Rock Star'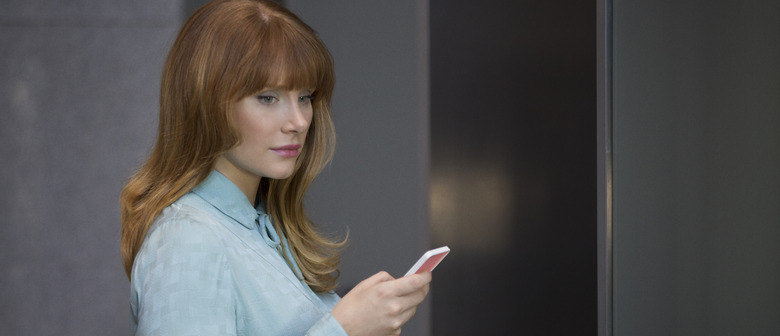 Bryce Dallas Howard has directed several short films, plays, and an M-83 music video throughout her career. She's yet to direct a feature film, though. The star of Pete's Dragon and Jurassic World spent years working on a Big Chill-esque project called The Originals, which she wrote in 2009 with her writing partner/brother-in-law Dane Charbonneau, but it's yet to come to fruition. Howard has now lined up another possible feature directorial debut, Sorta Like a Rock Star, based on Matthew Quick's ("Silver Linings Playbook") novel of the same name.
Below, learn more about the potential Bryce Dallas Howard directorial debut.
According to Variety, the project was originally set up at Fox Searchlight. There's currently no distributor, but if Sorta Like a Rock Star moves forward, Howard will direct it. The story is about an optimistic high school student Amber Appleton living in a bus. During her senior year, an altercation at home leads to her living in her mom's school bus. It's just Amber, her mom, and their dog, Bobby Big Boy, together.
Here's the book's synopsis:
Amber Appleton lives in a bus. Ever since her mom's boyfriend kicked them out, Amber, her mom, and her totally loyal dog, Bobby Big Boy (aka Thrice B) have been camped out in the back of Hello Yellow (the school bus her mom drives). But Amber, the self-proclaimed princess of hope and girl of unyielding optimism, refuses to sweat the bad stuff. Instead, she focuses on bettering the lives of her alcoholic mother and her quirky circle of friends: a glass-ceiling-breaking single mother raising a son diagnosed with autism; Father Chee and The Korean Divas for Christ (soul-singing ESL students); a nihilist octogenarian; a video-game-playing gang of outcasts; and a haiku-writing war vet. But then a fatal tragedy threatens Amber's optimism—and her way of life. Can Amber continue to be the princess of hope?
Over a year ago, Miguel Arteta (The Good Girl) was attached to direct with a script from Ol Parker (The Best Exotic Marigold Hotel). Whether Howard is sticking with Parker's script isn't mentioned in Variety's report. Over the years, Howard has done great work in front of the camera, but she's been directing for a while now. She first directed a play, No Exit, and later on, a production of Kenneth Lonergan's This is Our Youth with her husband. Since then, in addition to directing shorts and Lilly Collins in M-83's "Claudia Lewis" video, she's supported aspiring filmmakers with Canon's "Long Live Imagination" campaign – a contest involving making a short based on a series of photos.
Here's the short she directed collaborating with Cannon: