'Blade Runner 2049' Won't Have Narration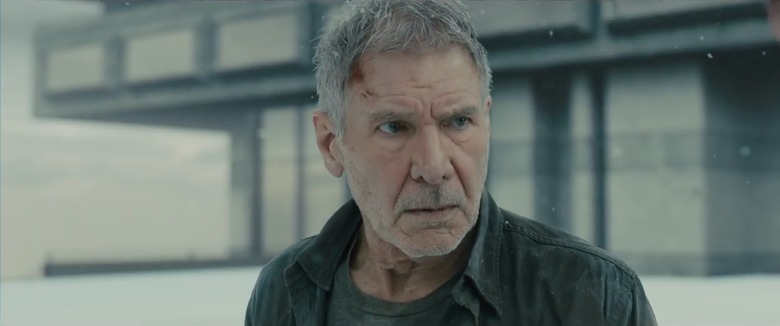 When it comes to the voiceover from Blade Runner, some people love it, most people don't. While the director of the sequel, Denis Villeneuve, is a huge fan of the original cut and the narration's "film noir quality," there will be no voiceover guiding the audience in Blade Runner 2049. For the Arrival and Sicario director, a voiceover would not have worked – but that didn't stop him from joking about it with star Harrison Ford a few times.
Below, Villeneuve confirms there's no Blade Runner 2049 narration.
Villeneuve grew up loving the original cut of the film, not knowing its reception was less than stellar at the time of its release. While speaking with Collider, he talked about his love for it, including the voiceover, and why a character explaining what's clearly happening in the frame is not a part of Blade Runner 2049:
That's a joke I made with Harrison Ford when he came to do his ADR: I gave him a narration. No, there's no narration. It's not something that would have been welcome and the movie doesn't need one. It was not a part of the project, no, but we were making jokes about that. It would've been a strange thing to see the fans' face if the movie had started with a narration, a voiceover.
The original narration Scott and Ford weren't satisfied with. They both wanted a narration to provide clarity, but the financiers had the narration rewritten. "I delivered it to the best of my ability, given that I had no input," Ford once told Playboy. "I never thought they'd use it. But I didn't try and sandbag it. It was simply bad narration." The decision to rewrite the narration followed test audiences' confusion.
Here's the synopsis for Blade Runner 2049:
Thirty years after the events of the first film, a new blade runner, LAPD Officer K (Ryan Gosling), unearths a long-buried secret that has the potential to plunge what's left of society into chaos. K's discovery leads him on a quest to find Rick Deckard (Harrison Ford), a former LAPD blade runner who has been missing for 30 years.
A sequel to 1982's Blade Runner directed by Ridley Scott, Blade Runner 2049 is written by Hampton Fancher and Michael Green. Ana de Armas, Jared Leto, Mackenzie Davis, Carla Juri, Barkhad Abdi, Edward James Olmos, and Dave Bautista round out the star-studded cast.
Blade Runner 2049 opens in theaters on October 6. Check out the trailer and our recent roundtable interview with Villeneuve.