'The Emoji Movie' Is Officially The Worst-Reviewed Movie Of 2017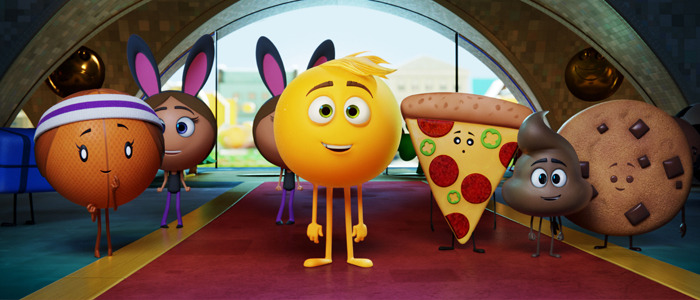 It's a result that shouldn't surprise anyone: Sony Pictures Animation's The Emoji Movie, which is in theaters today, is officially the worst-reviewed wide-release film of the year so far. While it earned the rare distinction of having a 0% rating on Rotten Tomatoes earlier this morning, it's since been given a single "fresh" review, which has bumped it up to 3%. But that still makes the film the worst-reviewed major release of 2017.
ScreenCrush compiled a list of some other movies that were also poorly reviewed this year:
Rings - 6%
Fifty Shades Darker - 10%
Transformers: The Last Knight- 14%
The Circle - 15%
All Eyez on Me - 16%
CHIPS - 16%
The Mummy - 16%
The House - 18%
I'm actually a little surprised that Rings is that low on the list, but based on what I've seen and heard, The Emoji Movie deserves every single bad word said about it.
Full disclosure: I haven't seen The Emoji Movie, and since I'm not the type of viewer who's morbidly curious about seeing roundly despised films in theaters (and I don't have a child who's excited about seeing it), I don't ever plan on watching it. And look, I don't usually make it a habit to pile on when a movie receives terrible reviews, but the executives at Sony had to know this was coming. You don't green light a movie centered around little symbols that appear in text messages without having a good sense of how people will react to an idea so ill-conceived. But the studio clearly thinks so little of the American public that they decided so many people would see it anyway that it was worth rolling the dice to see if they could make a profit off this thing.
And the thing is, their gamble may have paid off for them. Box Office Mojo doesn't have the estimates for today or the weekend yet, but they report that the film earned $900k from Thursday night early shows, which is $100,000 better than The Angry Birds Movie did in its first night in theaters. That film went on to make almost $350 million worldwide on a $73 million budget, and The Emoji Movie has a reported budget of only $50 million, so if it does similar numbers, it'll be even more profitable.
Despite the seemingly idiotic concept, there actually was some potential for this movie to rise above its premise and deliver something worth thinking about. Remember, The LEGO Movie also sounded like a godawful idea on paper, but writer/directors Phil Lord and Chris Miller were able to mine brilliance from it and craft a film that leaned into the natural creativity of LEGO while being totally hilariously self-aware all the way through. But The Emoji Movie director Tony Leondis is apparently no Lord and Miller, and you need only scan a handful of reviews to discover that the movie has no brain, no heart, no self-awareness, and no reason to exist aside from being a hub of blatant product placement for Sony products.
There's a lot to be said for seeing a movie for yourself and making up your own mind, but when a situation like this comes along – a movie looks like a terrible idea from the start, and then gets overwhelming reviews that reinforce that notion – I tend to lean more toward the "life is too short" mentality instead of proving to myself something I already heavily suspected.
The Emoji Movie is in theaters now.