ABC's Classic 'TGIF' Line-Up Is Coming To Hulu [TCA 2017]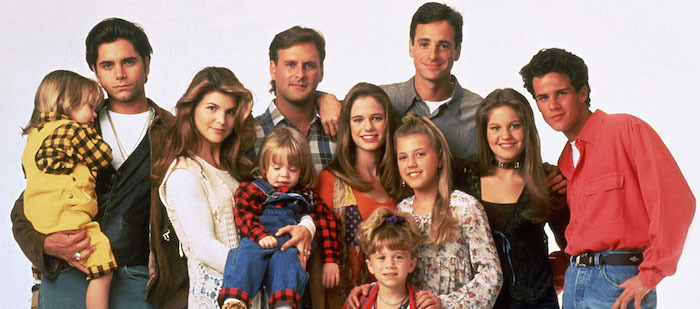 Hulu presented panels to the Television Critics Association today. A full report on the Marvel's Runaways panel is coming up, but in opening announcements, SVP of Content Craig Erwich revealed that the original ABC "TGIF" line-up, ABC's block of four family friendly comedies on Friday nights in the '80s and '90s, will be available on Hulu.
"Soon you'll be able to catch all your TGIF favorites any day of the week, any time you want only on Hulu," Erwich said. "In a new deal with Warner Bros., the complete catalog of Full House, Family Matters, Perfect Strangers, Hanging with Mr. Cooper and Step By Step will make their streaming debut on Hulu this fall. Now Friday can be whenever you want."
Full House ran from 1987-1995, Family Matters from 1989-1998, Perfect Strangers from 1986-1993, Hangin' with Mr. Cooper from 1992-1997 and Step By Step from 1991-1998. Full House nostalgia is so strong that the rebooted incarnation Fuller House is getting a third season on Netflix. Family Matters introduced Steve Urkel (Jaleel White) to the Winslow Family. Perfect Strangers starred Bronson Pinchot as an immigrant from a remote island Meepos living in Chicago with his Cousin Larry (Mark Linn-Baker). Hangin' had teacher Mark Cooper (Mark Curry) as the father figure, and Step was a comedy comeback vehicle for both Patrick Duffy and Suzanne Somers.
Notably absent from the lineup is Dinosaurs, the Jim Henson sitcom starring a family of animatronic dinosaurs. So there's room for TGIF to expand on Hulu, but six complete series is a good start.
Erwich also announced the start of production on House of Cards' creator Beau Willamon's next series, The First. The Stephen King series Castle Rock from J.J. Abrams is now in production. Harlots and The Handmaid's Tale will get second seasons.  The 9/11 drama The Looming Tower will star Jeff Daniels.
Erwich also announced a new documentary on the Barbie doll. "In 2018 we'll premiere a revealing new documentary about the world's most popular female icon," Erwich said. "We have received unprecedented access to Mattel as they reintroduce Barbie to a new generation." Previously, Hulu documentaries have produced films such as Batman and Bill and Becoming Bond.