New 'Flatliners' Trailer: Some Nasty Side Effects...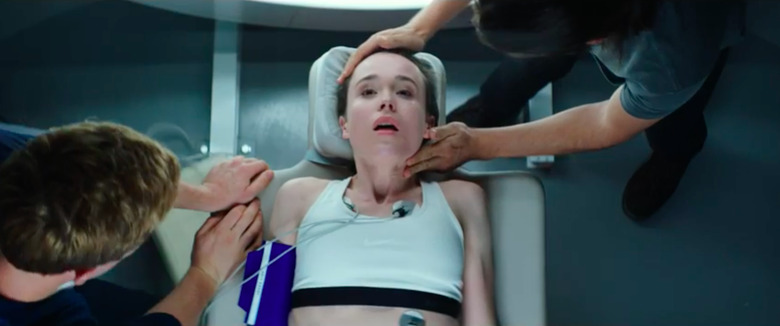 From producer Michael Douglas comes a remake of Flatliners. Based on Joel Schumacher's 1990 film, the premise appears to be more or less the same with some modern touches. It's a fine movie that doesn't quite live up to its premise, so unlike a lot of cases, a remake here makes sense. So far, based on the marketing, it doesn't look like Niels Arden Oplev's (The Girl with the Dragon Tattoo) movie is bringing a whole lot new to the table – except for a strong cast.
Below, watch the new Flatliners trailer.
Ellen Page (Inception), Diego Luna (Rogue One: A Star Wars Story), Nina Dobrev (The Perks of Being a Wallflower), James Norton (Happy Valley), and Kiersey Clemons (Neighbors 2: Sorority Rising) star as five medical students who take some bad trips to the other side. They'll stop each others' hearts for a couple minutes and then resuscitate their friends. At first they get some nice side effects from the experience, but then it all turns into a nightmare as something from each of their pasts comes back to haunt them.
A part of what makes the original work is its very watchable cast: Kiefer Sutherland, Julia Roberts, William Baldwin, Oliver Platt, and Kevin Bacon. Sutherland has a role in the remake, but we've yet to see him in any of the Flatliners trailers:
There are some of the broad story beats from the previous trailer, but this international trailer attempts to go for more thrills with a faster pace. It continues to look a little routine, like almost exactly what we'd expect from a Flatliners remake today. Hopefully, Oplev and screenwriter Ben Ripley's (Source Code) take on Flatliners is fresher than the trailers suggest. Ripley's Source Code is an excellent example of fast, fun, and character-driven science-fiction. His involvement makes me more hopeful for the remake than the trailers.
Sutherland, by the way, is playing his role from the original film. "I play a professor at the medical university," he said. "It is never stated, but it will probably be very clearly understood that I'm the same character I was in the original Flatliners but that I have changed my name and I've done some things to move on from the experiments that we were doing in the original film." His appearance sounds like a bit more than a cameo.
In Flatliners, five medical students, hoping to gain insight into the mystery of what lies beyond the confines of life, embark on a daring and dangerous experiment. By stopping their hearts for short periods of time, each triggers a near-death experience. As the investigation becomes more and more perilous, they are forced to confront the sins of their pasts, as well as contend with the paranormal consequences of trespassing to the other side.
Flatliners opens in theaters September 29, 2017.