The Mystery Screenwriter For Steven Soderbergh's 'Logan Lucky' Might Not Exist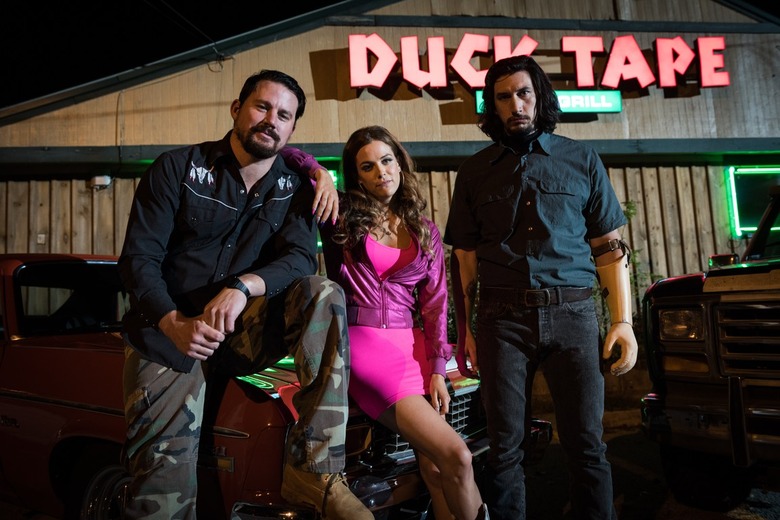 Logan Lucky is already getting rave reviews as a "high-spirited" and "brilliantly constructed" heist thriller, with first-time screenwriter Rebecca Blunt getting much of the acclaim for penning Steven Soderbergh's return to cinema.
But rumors are swirling that Blunt may not be who she says she is. In fact, she may not exist at all.
The Hollywood Reporter first suggested the possibility — according to multiple sources — that Rebecca Blunt is not a real person, but in fact a pseudonym used to hide the real writer's identity, based on the following reasons:
"Logan Lucky reviewers did not receive a press kit, which typically highlights the back story of key participants in a project, and only were given a bare-bones list of credits as they appear in the film. Also unusual, there is no press junket planned, despite the fact that the film is receiving a wide release on Aug. 18 and features a high-profile cast of movie stars..."
The lack of a press kit and a press junket despite the famous director and stars, including Channing Tatum, Adam Driver, and Daniel Craig, are painting a shroud of mystery around the first-time screenwriter. Could this be enough to indicate that Blunt is a pseudonym?
Possibly. Pseudonyms aren't uncommon in the movie industry, indeed they're not even uncommon for Soderbergh, who has used the names Peter Andrews for his work as cinematographer and Mary Ann Bernard for his work as film editor, according to THR. During Hollywood's Blacklist era, in which screenwriters and filmmakers were frequently accused by the government of having Communist ties, pseudonyms had their heyday. However, it's become a much less common practice today, and the WGA's website requires that a writer must use his/her own name in all writing credits unless he/she has already established a pseudonym.
Why the secrecy? THR has multiple theories about who Rebecca Blunt could be: Soderbergh's wife, former model and TV personality Jules Asner; E! personality and friend of Asner, John Henson; and Soderbergh himself. In the first two cases, neither Asner or Henson are well-known in the film community or have had any experience screenwriting — and because of their careers as entertainment talking heads, may not be well-regarded to write a prestigious action flick. But THR does note that Asner has "demonstrated a creative streak," having written the 2008 novel Whacked to fairly decent reviews.
Soderbergh could also be a possibility, though he hasn't written a feature he's also directed since 2002's Solaris.
For now, we're out of luck on discovering the true identity of Rebecca Blunt.
Logan Lucky hits theaters August 18, 2017.