Star Wars Bits: A Clue To Luke's 'Last Jedi' Status, New Han Solo Details, And More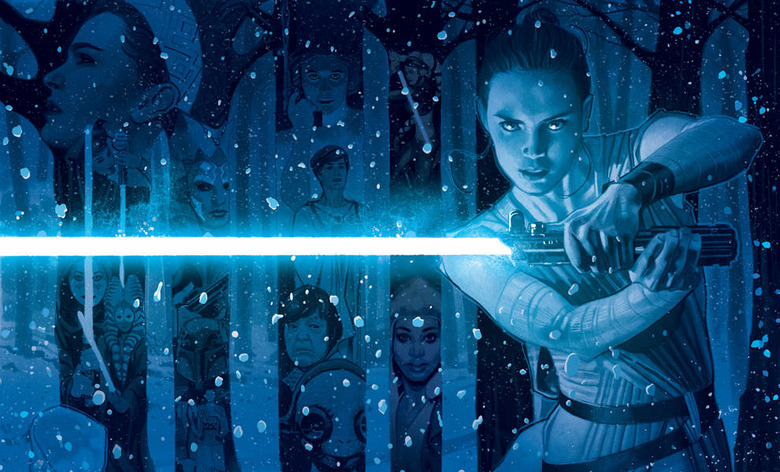 In this edition of Star Wars Bits:
A clue to Luke Skywalker's status in The Last Jedi
More stunning Star Wars art
Han Solo set photos
A Star Wars Rebels behind-the-scenes tease
And much more!
You've probably seen, coveted, and maybe even owned a few of Sideshow Collectibles' Hot Toys or prop replicas, but did you know they do art, too? Teaming with ACME Archives, a new print (seen above) of Rey features her front-and-center with the Skywalker lightsaber, while other women of Star Wars past including Ahsoka, Leia, Shak-Ti, Maz Kanata, Sabine, and more make up the snowy background behind her. Very cool, and very limited edition – only 500 are being printed.
The Darth Vader comic is the gift that keeps on giving. Aside from giving us more information about kyber crystals found in lightsabers, it could also be giving us a big hint at what Luke Skywalker is doing in Star Wars: The Last Jedi. The "Barash Vow" was introduced in the comic, showing how Jedi retreat to focus on nothing but studying the Force. Has Luke taken the vow? The folks at Star Wars Explained have a great video exploring that question above.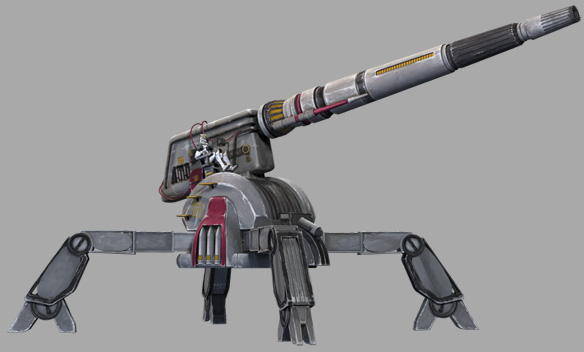 Okay, time for some canon talk. No, not that cannon above, though that is a canon cannon – we mean the details and history of the Star Wars universe as acknowledged directly by Lucasfilm, the Star Wars Story Group, and other creators within. Story Group member Pablo Hidalgo went to twitter (against his better judgement) to try to explain his personal thoughts on canon, specifically in how detailed it gets or doesn't get. He thinks that things like dialogue changes, positioning of people in a room, and the like don't matter – they're variations on a theme. You can read his words directly, which are again his personal opinion and not an official statement of Lucasfilm, in the twitter thread that starts below.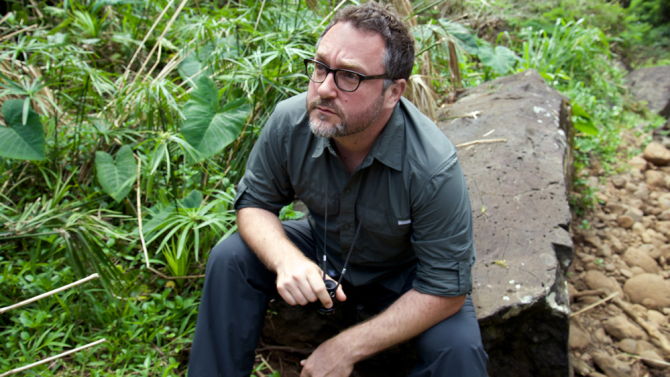 Colin Trevorrow, who will direct Star Wars: Episode IX, the finale of the Sequel Trilogy, is thrilled to be a part of the galaxy far, far away. But there is one thing he'll miss out on that struck him while preparing for the film. He told Cinemablend that losing the "fan experience" of the franchise is tough:
Unfortunately, Rian's film is the first one I won't be able to watch as an audience member. I got that privilege with The Force Awakens. I just got to go see it with a Star Wars fan. I got to sit next to my kid and just giggle as we read the crawl because we were so excited. Rogue One  was the same way. I didn't see it in advance. That time is over now. Star Wars is no longer that experience for me. If there's anything kind of sad about it, it's that I don't get to have that. But I wouldn't trade it, don't get me wrong.

If you were looking forward to going further behind-the-scenes of Rogue One: A Star Wars Story, we have some bad news, as Abrams Books has removed their "Making of" book from their site. JediNews has some details – and a glimmer of hope.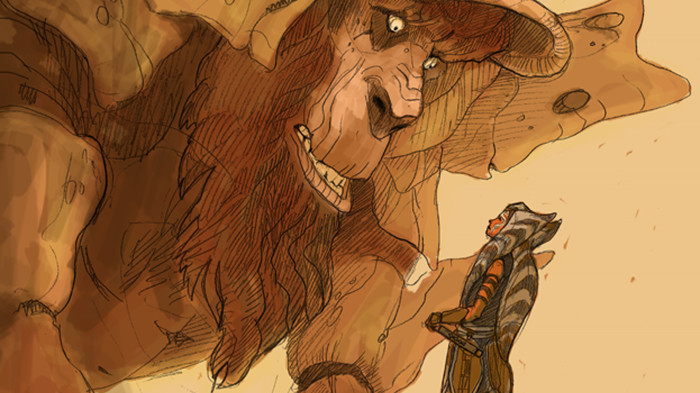 Lucasfilm Animation head Dave Filoni released a cutting-room-floor style scene from Star Wars Rebels that made fans go nuts: a conversation between Ahsoka Tano and The Bendu, taking place just before Ahsoka, Kanan, and Ezra went to Malachor for her ill-fated confrontation with Darth Vader at the end of Season 2. In the conversation, Bendu warns her that "much will change as a result of this encounter, including you," but talks in circles as to whether that means her true death or not. Check out the whole conversation (and detailed analysis, shameless plug) here at SYFY WIRE.
The #UntitledHanSoloMovie editing room pic.twitter.com/P3tIZSXlIf

— Ron Howard (@RealRonHoward) July 8, 2017
While Han Solo's Star Wars Story film barely got a mention at D23 Expo, Ron Howard isn't shying away from tweeting about the movie. Before he jumped on set on July 17, he was in the editing bay, reviewing the footage shot so far that he'd be picking up on. He also took to the set for one day in late June to shoot the last of Thandie Newton's scenes, presumably before she leaves to shoot Westworld, and shared a look at Chewbacca from his first day of shooting, to try to stem the worry about the film. In other words, follow his twitter account now.
#UntitledHanSoloMovie Care to guess whose closet this is?
A post shared by RealRonHoward (@realronhoward) on
Speaking of Ron Howard on social media, he posted a wardrobe closet from the set of Han Solo to his instagram and twitter, and it sure looks like it belongs to Lando Calrissian. If we're not mistaken, that's several glorious space capes. Space capes for days. SPACE. CAPES.
'Star Wars' Han Solo Film Set Photos Show Woody Harrelson Meeting Young Han and Chewbacca https://t.co/d6y6RraNTJ

— TMZ (@TMZ) July 10, 2017
Sure, Lucasfilm didn't bring any shots or footage of Han Solo to D23, probably because they wanted to give Ron Howard a chance to look things over before doing any kind of real promotional work on it, but that's not stopping TMZ from publishing a couple shots that are right there on the set. They show Han (Alden Ehrenreich) meeting Woody Harrelson's character, as well as what appears to be Emilia Clarke's character. There are also strange tubes in the background. A video showing this same set, with its platform elevator in the middle, is also included. Looks like a crewmember needed a few extra bucks.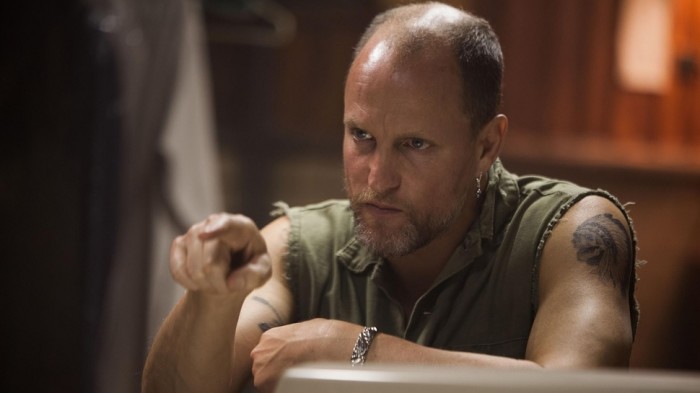 Woody Says Relax. During the press tour for War for the Planet of the Apes, Harrelson is being asked about Han Solo quite a bit – particularly the directorial shift late in the game. Well, he says it's time to relax, telling Uproxx, "you can relax, man – because obviously the Force is with us. Ron is great. He's awesome. He's such a gentleman and so prepared. And I loved Chris and Phil. But I think we did land in very capable hands."
Harrelson also told THR that he was called by producers to be told about the directorial change, and that people shouldn't "worry about the fate of this movie."
@rianjohnson the cinematography in #thelastjedi trailer is absolutely stunning. Can we expect see more of this in the movie?

— NateG (@nitz146) July 9, 2017
You like the look of the first trailer for Star Wars: The Last Jedi, with its dark corners and sharp angles? Hopefully, because director Rian Johnson confirmed on twitter that Steve Yedlin's unique vision for the galaxy far, far away will be seen just like that throughout the film. Yedlin, of course, jumped in to joke that he'd "forgotten to push the Vibrant button on the camera" when a fan chimed in to complain about the greyish tone. Of course, with the "grey" area of the Force likely being explored in the film, maybe that's a subtle and intentional nod.
Holy crap. "Raptor5120," whoever you are, we love you. This intrepid Youtuber has begun converting the story of Jedi Knight II: Jedi Outcast, an incredible video game set in the Legends continuity, into LEGO animation. He uses the audio from the game, and dang if it doesn't bring back memories real quick. This game explored Kyber crystals before they were called that, and their connection to the Force that's no canon was teased in it. This is outstanding. Watch it so he'll do more!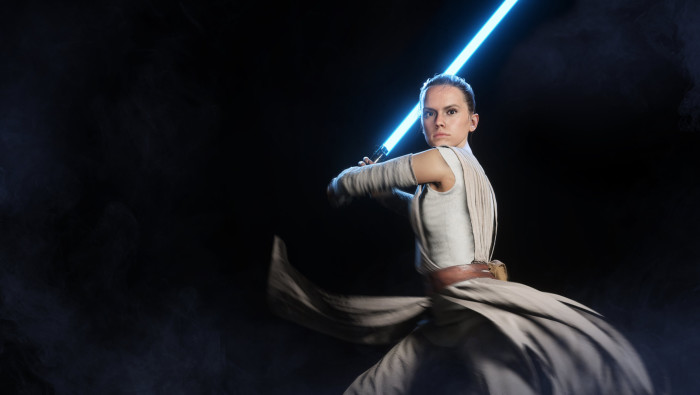 New details about the playable Rey character in Star Wars Battlefront II were released by EA, including her three special abilities. Each of them seem tuned directly to powers she displayed in Star Wars: The Force Awakens, so they don't necessarily give us much insight into what she'll be like in The Last Jedi. Dash Strike sees her charge forward like she did in her fight with Kylo Ren, Mind Trick causes nearby enemies to be dazed (like she did to the stormtrooper played by Daniel Craig), and Insight lets her sense her surroundings and all nearby enemies, much as she was able to inherently sense things within the Force like when to cut the Falcon's engines during her first flight. She looks awesome in the game, out November 14, 2017.
— Bad Robot (@bad_robot) July 14, 2017
The Rey token, and indeed the second edition of the Star Wars: The Force Awakens Monopoly game altogether appears to be dead in the US. A Hasbro spokesperson said there was "insufficient interest" for the Rey token and the new edition of Monopoly in the States. Well, JJ Abrams isn't having it, tweeting the above image to inspire fans to go after Hasbro. To play devil's advocate, though, this isn't a Hasbro issue, it's a retail issue – retailers had too many copies of the previous Star Wars Monopoly that went unsold, and thus didn't want to order this one. Yes, that one probably went unsold at least partially because of the all-male cast within it, so it does come back to Hasbro as well. Hopefully this is all a lesson learned and we won't have to ask "Where's Rey?" for the products released around The Last Jedi.