Damon Lindelof Hasn't Met With HBO About A 'Watchmen' Series; Shares His Thoughts On A 'Lost' Revival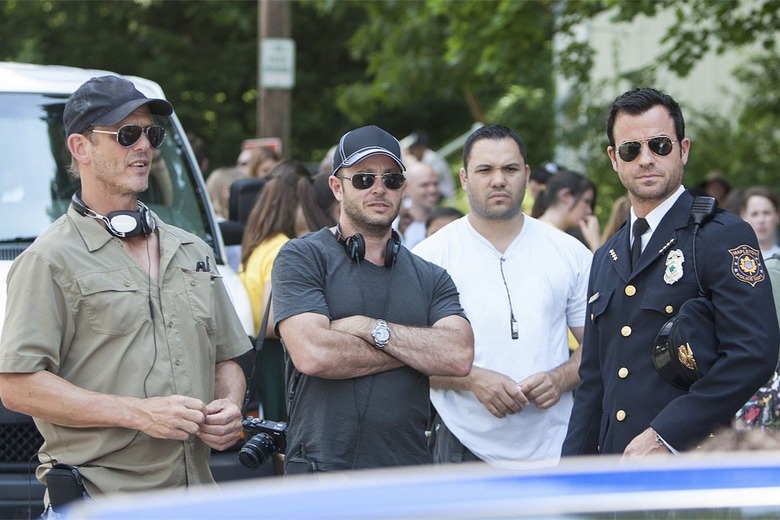 In 2015, talk of a Watchmen miniseries involving director Zack Snyder began. The news was quiet about the second adaptation of Alan Moore and Dave Gibbons' graphic novel, but in June it was reported Damon Lindelof was in talks to develop Watchmen as its showrunner. The Leftovers co-creator has yet to have any meetings with HBO about Watchmen, but he's been thinking a lot about Moore's 12-issue story recently.
Below, read Lindelof's thoughts on the Watchmen HBO miniseries and a Lost revival.
Watchmen hasn't been confirmed by HBO. All we know is HBO, Warner Bros., and Snyder have all talked about working together on a miniseries. While speaking with TV Line, Lindelof told them he's thinking about the project and whether it's something he should do:
All I can say at this time is, I haven't had any meetings with HBO about Watchmen. I've been very vocal about my love for those 12 issues that eventually became a graphical novel. They were completely and totally inspiring for all the storytelling I did subsequently, and that I owe a debt to. Is that a piece of material that's really interesting to me? Yes, but I feel I have to weigh the balance of should it exist before I decide to take it on. I'm sort of in that process now.
Lindelof added he wouldn't want to be the person to deliver a weak adaptation of Watchmen. As for a project that hasn't been talked about at all yet, a Lost revival, Lindelof isn't opposed to the idea:
It would be really exciting if there's another incarnation of Lost, I just won't have any association with it. Not because I'm too good for it. I just feel like, again, we worked so hard to end our story, that to come back and say, 'Well, that wasn't the real ending,' would be frustrating.
He added:
I hope that when that happens, whoever is doing it, doesn't take the characters from the original Lost and put them in the new one. Because we worked so hard to end that show and to give the journey of the people on the Oceanic 815 and the people who were on the island when Oceanic 815 some level of closure. I know there was some debate as to whether or not there was enough closure...
What's next for Lindelof is unknown at this time. When we spoke with him before the premiere of The Leftovers season 3, he said he wants to do something risky next. "I guess my feeling is whatever I do next, I want to try the same thing again, which is I want it to feel different so that I'm uncomfortable," he told us. "That I feel like I'm in uncharted territory and I don't quite know what I'm doing so that I can feel like it's a learning experience."
Watchmen certainly seems like uncharted territory for Lindelof. As much as I love Snyder's adaptation of Moore and Gibbons' work, I wouldn't mind seeing a storyteller like Lindelof, someone whose work tends to be more emotional, take on the property. Hopefully, we'll know soon enough whether he wants to adapt this classic.