'Mad Max: Fury Road' Star In Talks To Play J.R.R. Tolkien In Upcoming Biopic 'Tolkien'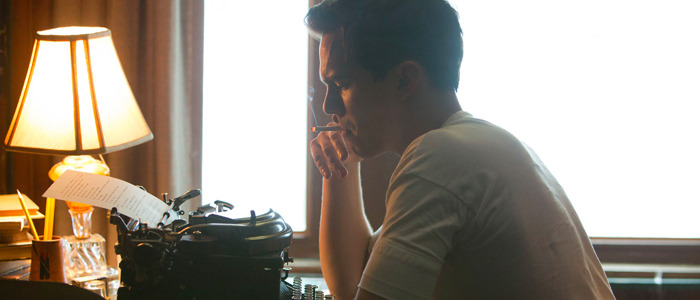 J.R.R. Tolkien, the architect of Middle-earth and the author of beloved novels like The Hobbit and The Lord of the Rings, both of which were famously adapted into live-action film trilogies, will provide the source material for yet another movie. But this one won't be about a world that sprang from his imagination, but rather about his own life. A new report says that Mad Max: Fury Road and X-Men: First Class star Nicholas Hoult is the frontrunner to star in Tolkien.Deadline reports that Hoult, who's also appeared in Jack the Giant Slayer and Warm Bodies, is in early talks to play a young version of the famed author for Finnish director Dome Karukoski (The Home of Dark Butterflies). It's also worth pointing out that if he signs on the dotted line here, this will be the second major literary figure Hoult will have played in his career so far (he plays The Catcher in the Rye author J.D. Salinger in the upcoming movie Rebel in the Rye).
Here's the synopsis for Tolkien:
The script by David Gleeson and Stephen Beresford explores the formative years of the orphaned author as he finds friendship, love and artistic inspiration among a fellow group of outcasts at school. This takes him into the outbreak of World War I, which threatens to tear the "fellowship" apart. All of these experiences would inspire Tolkien to write his famous Middle-earth novels.
My wife and I recently dove into the extended edition Blu-rays of The Lord of the Rings trilogy, and much of the behind-the-scenes content on those discs is about Tolkien and the formative experiences that shaped the writer he'd become later in life. There's a lot there about the informal literary discussion group called The Inklings, of which Tolkien was a member alongside fellow creatives like C.S. Lewis and Charles Williams, so I suspect this production will be casting those roles soon. Even outside of that group, The Hobbit wasn't published until Tolkien was 45 years old, so there's plenty of life to cover in the years leading up to his successful writing career.
Interestingly, there may be a Deep Impact/Armageddon scenario brewing here. Another Tolkien biopic called Middle Earth was announced late last year, and a couple producers of The Lord of the Rings movies were attached to make that film. Tolkien appears to be a separate project written by different people. James Strong (Broadchurch, Downton Abbey) is directing Middle Earth, which covers a similar period in the late author's life. Angus Fletcher wrote that film during a six year stretch in which he immersed himself in archival research and interviews with Tolkien, so here's hoping Gleeson and Beresford's Tolkien script can hold a candle to that one.