'Get Shorty' TV Series Is Closer To The Elmore Leonard Book Than The Movie [TCA 2017]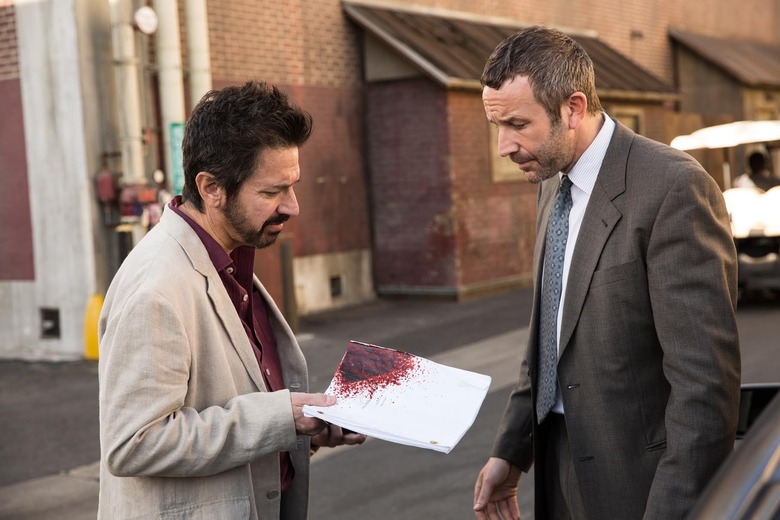 Pay cable network Epix just launched its first scripted original series in 2016 with Berlin Station and Graves. For its third, show runner Davey Holmes has adapted Get Shorty. The series will apparently be closer to the Elmore Leonard source material than the 1995 movie which was based on the book.
The series begins with original characters, Miles Daly (Chris O'Dowd), a gangster who comes to Hollywood and gets smitten by the film industry. Straight to video producer Rick Moreweather (Ray Romano) tries to produce a script Daly took off a dead screenwriter.
"We've taken the premise of tough guys, thugs who fall in love with making movies and come to Hollywood," Holmes said on Epix's Television Critics Association panel. "Outside of that, we wanted the freedom to completely start over with the story. I think going back to the book, the tone of Elmore Leonard's work which is a lot of quirky, specific renderings of thugs and finding the humor in what's human about them, killers who get carsick when they read in the car, have nervous breakdowns, that sort of thing."
The movie, directed by Barry Sonnenfeld and starring John Travolta as the book's Chili Palmer, was rated R for violence and language. On Epix, Get Shorty can go full HBO with the violence, nudity, and language.
"Visceral violence is one of those notes that helps push the tone of the whole piece, I think," Holmes said. "I was influenced by The Sopranos as well as other sources. It's just a matter of allowing yourself to go as far in any direction as you can."
Co-Executive producer and director Adam Arkin suggested that the movie perhaps toned down some of Leonard's edge.
"If anything, the movie was pulling back on the violence that permeates a lot of Elmore Leonard's work," Arkin said. "The TV show I think explores in more detail a lot of the violence that exists in the original material."
In creating a new character, seeing Hollywood through Davy's eyes automatically makes this Get Shorty different from Chili Palmer's.
"I knew tonally we would be very different from the movie," Holmes said. "We would go into this with a different cinematic approach and a different take on the character. This guy gets his hands dirty and he's passionate about stuff. Coolness isn't the overriding aspect of the character."
O'Dowd likens Get Shorty to visiting the same place at different times, in this case, 22 years apart between the film and the show.
"It's like visiting a bar at a different time of the week," O'Dowd joked. "The movie is like going to a bar on Saturday night when everybody's working well, their chat up lines are working a treat. We visit the bar at 3AM on a Thursday when the floor is kind of sticky, you're fighting with your girlfriend, the bar bill's about to arrive and you can't afford to pay it."
Daly travels to Hollywood from Pahrump, NV, which also sets the mob half of Get Shorty in a new arena.
"Lama Odom was in the news for having collapsed at a cathouse there," Holmes said. "It was described as a place he went to to get away, where the cell phones don't work. It looked like the end of the world."
Look for Slashfilm's interview with Holmes and Arkin, coming soon. Get Shorty premieres Sunday, August 13 at 10 PM. Three episodes are already available on the Epix app.