The 'Spawn' Movie Will Draw Inspiration From 'Jaws,' Todd McFarlane Says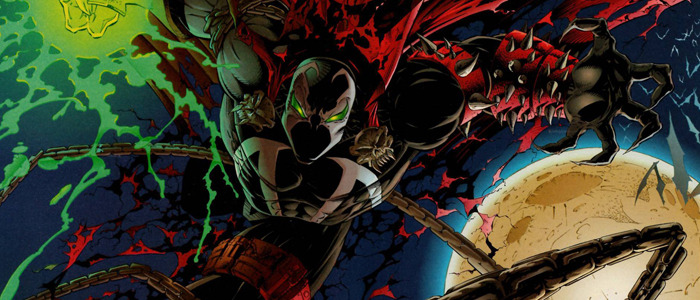 The Spawn movie has been long gestating — presumably, in the bowels of hell — but fans of the comic book antihero were finally put at ease with news of a new Spawn film at this past weekend's San Diego Comic-Con.
With Spawn creator Todd McFarlane announced as the writer and director of the Spawn movie under Blumhouse Productions, you may be excited to see the supernatural antihero finally gracing the silver screen again years after that awful 1997 adaptation. But, McFarlane teases, this may not be the Spawn you recognize.
We reported that McFarland would direct the Spawn movie at Comic Con, which Blumhouse CEO Jason Blum confirmed on the McFarlane Toys YouTube channel on Monday:
"I think he's a great inspired artist, he created Spawn, and he's the best, really only, person to direct this movie. We've been talking about it for quite some time and I believe in him. He's going to join the ranks of Jordan Peele with Get Out, M. Night and the Visit and Split with us. And I think Todd is going to fit great into the Blumhouse mold, and we're going to open up a lane for him to do his thing."
During the Comic-Con circuit, McFarlane was already talking up a storm about his vision for the Spawn movie. Mainly that Spawn, the famous antihero of the supernatural horror comics who battles both gangs and demons, would not be the main character of this film.
"The lead isn't really Spawn," McFarlane explained to Vulture, saying that "the Spawn character doesn't talk."
McFarlane told ComicBook.com that the Spawn movie would draw inspiration from Steven Spielberg's 1975 classic Jaws, which rarely showed the terrorizing shark throughout the film, upping the menace and horror. McFarlane plans to have the main character be a cop, while Spawn would be theamysterious, rarely seen figure:
"There's two big roles in the script. There's obviously sort of Spawn himself, although in a weird way it's not the biggest role, and then there's the cop. The cop is this character Twitch who's been there since issue #1. Twitch is the role in this one, and I sort of refer to him as my sheriff Brody, who is the sheriff in the Jaws movie. Although it was called Jaws, Jaws didn't really talk a lot in his movie, right? He just kind of showed up at the opportune time to make the movie worthwhile."
McFarlane isn't the only one looking to bring Twitch to life. Kevin Smith is currently working on a Sam and Twitch TV spin-off for BBC America. While Smith's series is about the pair of homicide detectives who first appeared in the Spawn series, it sounds like McFarlane is only focused on Twitch as a parallel of Sheriff Brody in Jaws.
McFarlane told Vulture that he is eyeing Leonardo Dicaprio for this "Sheriff Brody" character in Spawn, inspired by his performance in Wolf of Wall Street. "When I was writing I had Leonardo in my head," McFarlane said. "There is a manic-ness in him."
Spawn will be produced by Blumhouse, which specializes in low-budget horror films that have become critical hits. The budget for the Spawn movie is expected to be in the $10 million range. No release date has been announced.