Will The 'Avengers: Infinity War' Runtime Be The Longest Of MCU Movies?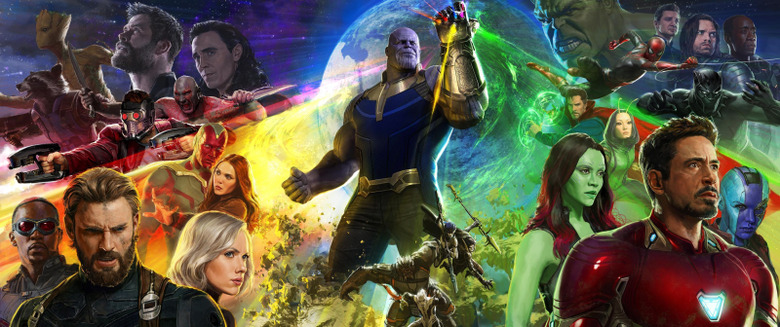 Avengers: Infinity War will be bigger than anything the Marvel Cinematic Universe has ever seen. Bigger stakes, bigger fights, and bigger drama. That much is clear by its Comic-Con three-part poster, which is chock full of superheroes and a lot of saturation.
And director Joe Russo, who is helming Avengers: Infinity War alongside his Captain America: Civil War co-director and brother Anthony Russo, hints that it may be the longest MCU movie as well.
The MCU has been building up to Avengers: Infinity War for 19 movies and 10 years, and will feature the largest number of superheroes ever in one film. So with the Avengers and the Guardians of the Galaxy both vying for screen time — not to mention our Big Bad, Thanos, and his goons The Black Order — it stands to reason that the Avengers: Infinity War run time will be long.
While Avengers: Infinity War hasn't finished its final cut yet, Russo told Collider that their film may indeed be the longest MCU movie yet:
"The current cut is over 2 ½, yes. Most of it is a movie you can show. Still a lot of work left to be done... It's certainly going to be a film that lives in the two and a half, two and a half plus range."
The longest MCU movie as of now is the Russo brothers' last film, Captain America: Civil War, which clocked in at 147 minutes. While it wasn't an official Avengers film, it featured the majority of Avengers heroes, culminating in a massive fight scene that featured 12 heroes packed into the screen, the largest number of heroes we had seen in one shot together. Infinity War will definitely beat that set piece.
The next longest MCU films are The Avengers and Avengers: Age of Ultron which register at 143 minutes and 141 minutes, respectively. It's safe to say that Infinity War will be around the same length of these films, if not longer.
But here we are, hedging bets about a movie's run time when no one outside of D23 or Comic-Con has even seen the first footage, or a trailer for Avengers: Infinity War yet. Russo seemed apologetic toward the fans who didn't get to see the footage shown at those events, telling Heroic Hollywood that they're working on making the footage "exactly right" for the audience:
"[W]e are taking our time and working on that footage because, as you can imagine, the levels of visual effects in these movies are unprecedented and there are certain things in this footage at Comic-Con that works specifically for a Comic-Con audience. But when we go wide, to a wide audience, we have to make sure that footage works for a wide audience. So we're hard at work on that right now. I'm not going to give a timeline on it because I want to surprise people but, you know, hopefully, they're patient with us."
So what do we know about Infinity War other than its enormous run time and its crowded poster? Well, James Gunn said on his Facebook that we'll get to see Adolescent Groot. So that will be something to look forward to.
Avengers: Infinity War will hit theaters on May 4, 2018.