Marvel Comic-Con Posters Revealed: 'Avengers: Infinity War,' 'Ant-Man And The Wasp'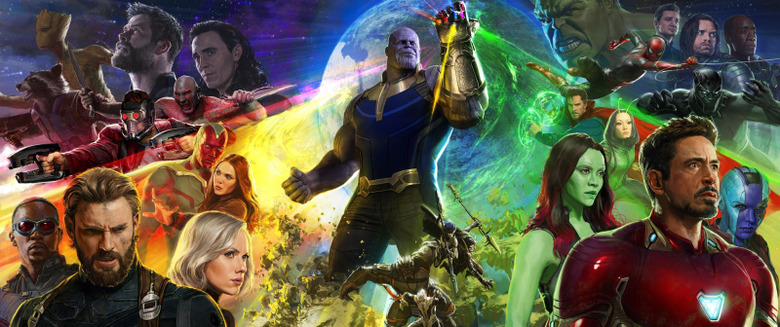 Us plebeians may not have gotten the chance to see the buzzy Avengers: Infinity War footage gifted upon Hall H-ers at San Diego Comic-Con and Mouseketeers at the D23 Expo, but we can make up for it by staring at the newly released Infinity War three-part poster for 10 minutes.
The three-part poster was revealed at Comic-Con on Sunday and gives us our first look at the meet-up between Earth's Mightiest Heroes and the Guardians of the Galaxy, as well as the foe they face. Not to be overshadowed is the first Ant-Man and The Wasp poster, also revealed at Comic-Con. Michelle Pfeiffer is going to be in that movie, everyone!
There's a lot to unpack in the Infinity War poster, seen above. Gruff, bearded Cap? Blonde Black Widow? Also I know no one cares about this, but I am giddy over the loving embrace that Vision and Scarlet Witch are sharing.
All the characters we've come to know and love in the Marvel Cinematic Universe, from Iron Man, to Hulk, Thor, Doctor Strange, Star-Lord, Spider-Man, and more, are packed tight in this poster, surrounding the Big Bad, Thanos. His minions the Black Order also make an appearance in the poster – you can see them just underneath his crotch.
To make it easier to analyze every piece of the poster, Marvel Studios Head of Visual Development Ryan Meinerding does us the favor of breaking apart the images into Instagram-ready posts.
You've been asking, so here it is. Part one of my Infinity War SDCC poster set. I'll be uploading the rest throughout the day. I'm about to head into the hall for the last day. I can't believe it's nearly over for another year! Oh and for those of you attending today I'll be doing a live demo at the Wacom booth at 10am. @robertdowneyjr @zoesaldana @karengillanofficial @imsebastianstan @tomholland2013 @doncheadle @markruffalo @chadwickboseman #infinitywar #avengers #sdcc #sdcc exclusive #sdcc2017 #marvel #marvelcinematicuniverse #ironman #gamora #tonystark #wintersoldier #nebula #hulk #hawkeye #mantis #blackpanther #spiderman #drstrange #warmachine
A post shared by Ryan Meinerding SDCC #5555 (@ryan_meinerding_art) on
Part two of three! Are you guys excited for the Black Order? Stayed tuned for part three! #infinitywar #avengers #thanos #marvelstudios #marvel #marvelcinematicuniverse #sdcc2017 #sdcc #sdccexclusive #conceptart #ryanmeinerding @joshbrolin A post shared by Ryan Meinerding SDCC #5555 (@ryan_meinerding_art) on
And Captain America! Save the best for last, always Team Cap. ????It's been a great con, just one hour left! Also someone left their t-shirts at my booth. If you know someone who lost a bag, send me a message! @chrishemsworth @twhiddleston @elizabetholsenofficial @paulbettany @davebautista @prattprattpratt #sdcc #sdcc2017 #sdccexclusive #captainamerica #infinitywar #avengers #blackwidow #falcon #scarletwitch #vision #thor #loki #groot #rocket #starlord #guardiansofthegalaxy #marvelstudios #marvelcinematicuniverse
A post shared by Ryan Meinerding SDCC #5555 (@ryan_meinerding_art) on
The poster closely resembles a comic book splash page, making me think that Infinity War will offer us another massive set piece that will bring epic comic book clashes to life, like the one directors Anthony and Joe Russo gave us in Captain America: Civil War. 
Ant-Man and The Wasp is No Small Feat
But you know who is missing from this poster? (Or maybe my terrible eyesight can't spot him.) Ant-Man.
But that's okay, because he's got a full-fledged poster of his own for Peyton Reed's sequel Ant-Man and The Wasp. Compared to the Infinity War poster, it's pretty simple, but it does the job.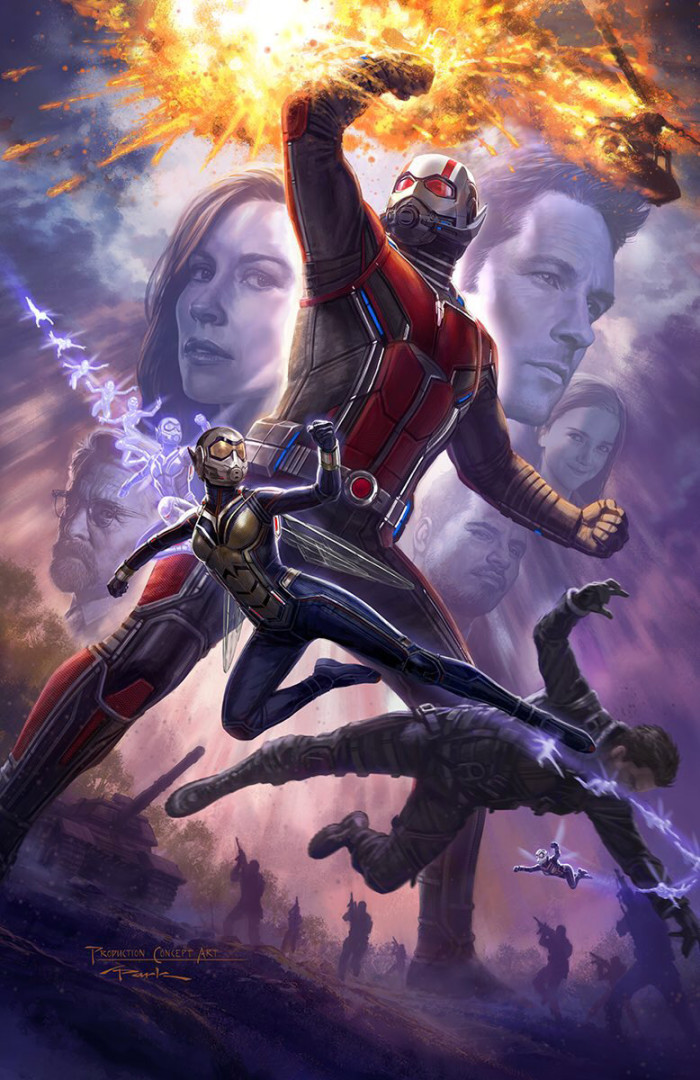 I only wish Evangeline Lilly's Wasp was a little bit more prominent in this poster, though that may be due to Ant-Man taking on the form of Giant Man. The one thing it really is missing is a glimpse of Michelle Pfeiffer as Hank Pym's (Michael Douglas) supposedly deceased wife Janet, with the actress making her return to the superhero genre after her turn as the greatest Batman villain, Catwoman, in Batman Returns. Yes I said that, and I will fight you over it. Pfeiffer is also joined by Laurence Fishburne as Bill Foster, better known to comic fans as Goliath.
Avengers: Infinity War hits theaters May 4, 2018. Ant-Man and The Wasp follows it soon after on July 6, 2018.