Stranger Things Season 2: Everything We Learned [Comic-Con 2017]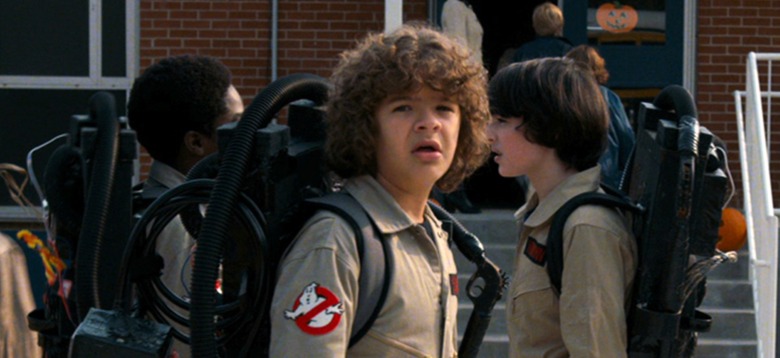 Netflix has had a huge presence at San Diego Comic-Con International, showcasing their original movies Bright and Death Note, as well as their original series The Defenders. On Saturday afternoon, sandwiched between the big Hollywood studios Warner Bros and Marvel Studios, Netflix gave us a preview of Stranger Things 2. Hit the jump to find out everything we learned about Stranger Things season 2.
It was a frustrating panel as the cast and crew were afraid to reveal any information about the upcoming second season. Thankfully moderator Patton Oswalt was there to keep things funny.  Here is everything we learned in the presentation:
Noah Schnapp's character Will Byers has returned from the Upside Down and is showing a bit more bravery. We will learn how he has been affected from his time on the other side.
Last we saw, David Harbour's character Jim Hopper went from being a jerk to a hero. In season two, he is trying to deal with the struggles of having accomplished a heroic action and living up to expectations. Harbour teased that "Hopper gets to do some very thrilling sexy things in season two."
Dacre Montgomery's character Billy is the new human antagonist for the second season. He mentioned he hopes he can be "scary enough" alongside the monster bad guy(s).Sadie Sink's character Max (aka Mad Max) moved to Hawkins from California and is a new student. Sadie also revealed that she worked with Caleb McLaughlin and Gaten Matarazzo before and was a fan of the show before getting the audition.Paul Reiser's character Dr. Owens is the newest addition to Hawkins lab. He comes in from the government to clean up Dr. Martin Brenner's mess.Shannon Purser showed up in the Q&A line and asked if her character Barb Holland would appear in season two. The Duffer Bros reiterated that Barb does not appear but that she will be avenged and there will be justice for her character.
The official Stranger Things season 2 plot synopsis follows:
It's 1984 and the citizens of Hawkins, Indiana are still reeling from the horrors of the demagorgon and the secrets of Hawkins Lab. Will Byers has been rescued from the Upside Down but a bigger, sinister entity still threatens those who survived.
In 1953, MKUltra came to Hawkins, Indiana and began experimentation. In 1979, Police Chief Jim Hopper returns to Hawkins. On November 6, 1983 a young boy named Will Byers vanished. Two days later, Barbara Holland also vanished. A year after Will's return, everything seems back to normal... but a darkness lurks just beneath the surface, threatening all of Hawkins.
Returning cast includes Winona Ryder as Joyce Byers, David Harbour as Jim Hopper, Finn Wolfhard as Mike Wheeler, Millie Bobby Brown as Eleven, Gaten Matarazzo as Dustin Henderson, Caleb McLaughlin as Lucas Sinclair, Noah Schnapp as Will Byers, Natalia Dyer as Nancy Wheeler, Charlie Heaton as Jonathan Byers, Joe Keery as Steve Harrington, Cara Buono as Karen Wheeler, Chelsea Talmadge as Carol and introducing Sadie Sink as Max, Dacre Montgomery as Billy, Linnea Berthelsen as Roman, Sean Astin as Bob Newby, Paul Reiser as Dr. Owens, Brett Gelman as Murray Bauman and Will Chase as Neil Mayfield.
The Duffer Brothers are directing the first two episodes, "Mad Max" and "The Boy Who Came Back To Life," Shawn Levy is directing the next two episodes, "The Pumpkin Patch" and "The Palace", the next two installments are being directed by Andrew Stanton titled "The Storm" and "The Pollywog", Rebecca Thomas directed "The Secret Cabin" and The Duffer Brothers directed the last two installments of the season, "The Brain" and "The Lost Brother".
Stranger Things season 2 premieres on October 27, 2017.