Channing Tatum Says 'Gambit' Is Being Reworked Following Success Of 'Deadpool' And 'Logan'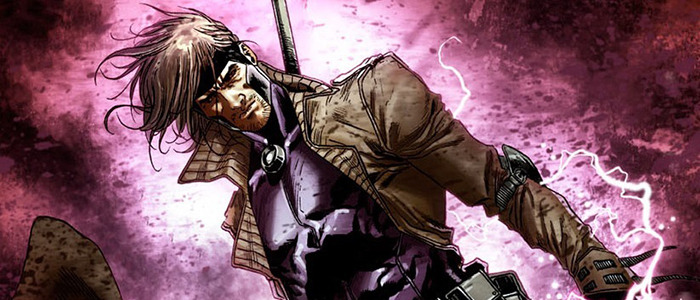 It's been two years since Channing Tatum took the Hall H stage at Comic-Con 2015 to take a photo with the massive assemblage of X-Men: Apocalypse and Deadpool cast members during 20th Century Fox's panel. Now, in the midst of Comic-Con 2017, we're not much closer to seeing him suit up as the card-throwing Cajun mutant Gambit.
The film has experienced a revolving door of directors over the past year or so, and now Tatum says that the movie's script is being reworked in the wake of the success of unconventional X-Men film like Deadpool and Logan. Get the latest info on the long-brewing Gambit movie below.
Speaking with Yahoo (via The Playlist) alongside the cast of Kingsman: The Golden Circle, Tatum acknowledged how the Tim Miller's rule-breaking Deadpool and James Mangold's violent, hard-R western riff Logan gave his Gambit film opportunities that it might not have had otherwise:
"We got really lucky. We had a first draft it was good, but we were coming to at a time at that creative phase of [the X-Men], where these movies went through a bit of a paradigm shift, where the X-Men movies and the superhero movies with Logan and Deadpool really broke down a lot of doors for us. We were trying to do some things that we actually weren't allowed to do, and they just smashed down the doors, and now we're giving it a bit of a rethink."
But does that new outlook on the film mean that Tatum and his team are suddenly thinking that the Gambit movie will now be its own R-rated entry that's full of violence and swearing like those films that came before it? Not necessarily:
"I don't know yet. We're not quite going there because I enjoyed Gambit as a kid, so I don't want to rule out PG-13. Some of the stuff we want to do is a little bit R, but we're not sure if it merits a full R yet."
Like Tatum, I grew up on the X-Men animated series and was introduced to Gambit through that show, and from what I understand, the smooth-talking Cajun worked much better on the small screen than he did in the pages of comics at the time. It's a smart move for Fox to tailor each individual property for a rating that makes sense for that property instead of seeing dollar signs with their recent spin-off successes and attempting to force other movies into a box that isn't the best fit. Sounds like we'll be waiting a little longer to see a new version of Gambit come to the big screen (we've all forgotten about Taylor Kitsch's portrayal in X-Men Origins: Wolverine, right?), but hopefully it'll be worth the wait.