Todd McFarlane To Direct New 'Spawn' Movie For Blumhouse [Comic-Con 2017]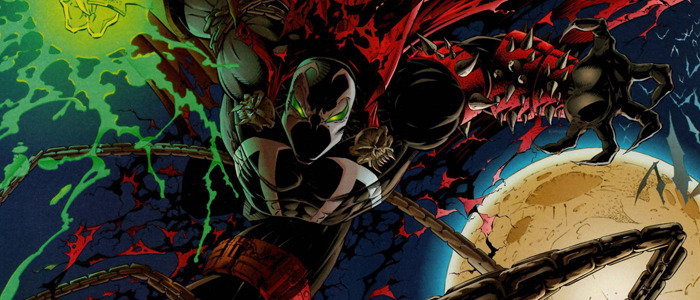 20 years after the first live-action Spawn movie hit theaters, a new one is officially in the works from Todd McFarlane. The famed comic book artist and creator took to Facebook to announce that he has teamed up with Get Out producer Jason Blum's Blumhouse Productions to make a new, R-rated Spawn movie. Get the details below.
The first draft of the film's script is complete. In the Facebook video, McFarlane says "the ink is just dry, and we've gone from the theoretical – no more theoretical. We're now making movies. We're going. Blumhouse, Spawn, badass, R [rating], it's coming, get ready for it! We're going into production." No word on exactly when the movie will begin shooting, or when we'll hear any casting news, but this must be an exciting time to be a Spawn fan.
Here's THR's breakdown of the Spawn comic books:
Spawn told of a black ops agent who is betrayed and killed, his soul sent to Hell for all the innocents he had killed. While there, he makes a deal with a demon who allows him to return to the Earthly plane and his wife. However, five years have now past and his wife has moved while he is a disfigured and super-powered spawn of Hell.
McFarlane has been talking about making a new Spawn film since 2009, and made it crystal clear to any producers or studios he spoke with that he demanded to be able to write, produce, and direct the movie should it ever happen. Considering Blumhouse's business model, which centers on giving filmmakers creative control in exchange for a comparatively small budget, this seems like the best possible pairing for McFarlane and fans of his character.
This movie will serve as McFarlane's feature directorial debut, which puts him in rare company of the very few comic book artists who have become directors. (Frank Miller made the jump when he directed portions of Sin City.) He's aware of the risk associated with him being a first-time filmmaker, as he explained earlier this month:
"I wouldn't ask to be a newbie director on a script that was going to have an $80 million budget for it. Why? Because as the CEO of my own corporations, I wouldn't take that deal. I wouldn't stick out $80 million and go, 'we're going to give it to a rookie, and he's going to basically be in charge of it.'"
He's promised to make a brutal, R-rated film that's "dark, and scary, and will scare the shit out of you." We'll see if he can live up to that promise.
Here's the trailer for the 1997 film: