'Krypton' Trailer: Superman's Grandparents Get Their Own TV Show [Comic-Con 2017]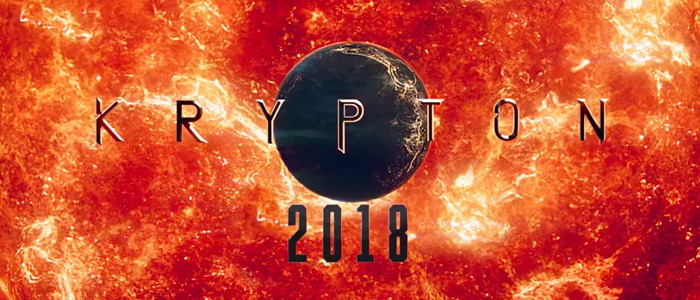 Fans have been waiting to see the first official glimpse of the new Syfy series Krypton ever since it was first announced back in 2014. A trailer briefly made its way online earlier this year, but was quickly pulled down by the network. So if you weren't part of the small group who managed to see that early preview, here's your first look at the new Superman prequel series that follows the Man of Steel's grandfather as he fights to save his family's honor on his doomed planet.
Krypton trailer
The new Krypton trailer debuted yesterday during this year's San Diego Comic-Con. Keep in mind that while this show clearly showcases a location that has appeared in the DC Extended Universe (specifically, in the early minutes of 2013's Man of Steel), Krypton isn't necessarily tied to the film's depiction of the planet's destruction. As far as I understand it, this isn't the equivalent of Marvel's Agents of S.H.I.E.L.D. or Agent Carter, meaning it doesn't take place in the same connected universe as its big-screen contemporaries. This is a separate story that just happens to be set on one of the most famous planets in fiction.
And as much as I rolled my eyes when this story was first announced years ago, I must admit that this trailer – which, admittedly, is ridiculously short – actually looks...pretty great? It definitely looks like they were able to make the most of their budget, because those visual effects look terrific (again, from the limited amount of time we get to see them on display here). And I'm intrigued at the fight that happens at the seven second mark: the one guy who's holding a curved blade seems to just sort of stand there and take a wound-up jump-slap to the face. Is this how all fights begin on Krypton?
Damian Kindler (Stargate SG-1, Sleepy Hollow) is the showrunner, while David S. Goyer (Batman Begins, Man of Steel) is on board as an executive producer. Cameron Cuffe, Georgina Campbell, Elliot Cowan, Ann Ogbomo, Rasmus Hardiker, Wallis Day, Aaron Pierre, and Ian McElhinney co-star.
Set two generations before the destruction of the legendary Man of Steel's home planet, Krypton follows Superman's grandfather (Cameron Cuffe, The Halcyon) — whose House of El was ostracized and shamed — as he fights to redeem his family's honor and save his beloved world from chaos.
Krypton doesn't have an official release date yet, but will arrive sometime in 2018.