Michael B. Jordan Turns His Flame On In First 'Fahrenheit 41' Photo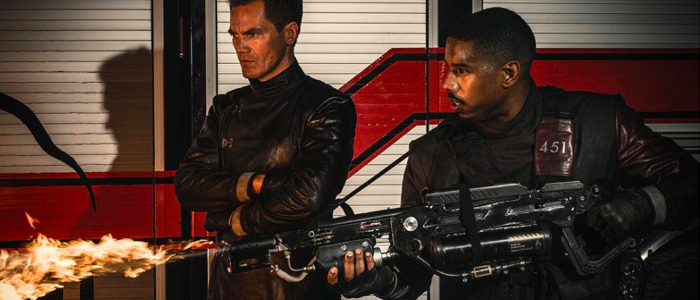 While a sequel to 2015's superhero flop Fantastic Four seems like a long shot, it looks like actor Michael B. Jordan (Creed) didn't need to suit up as the hot-headed Johnny Storm again to be exposed to more fire. He's co-starring in a new Fahrenheit 451 movie alongside Michael Shannon (Man of Steel), and Jordan has revealed the first photo from the movie on Instagram. Check it out below.
Here's the film's first official photo: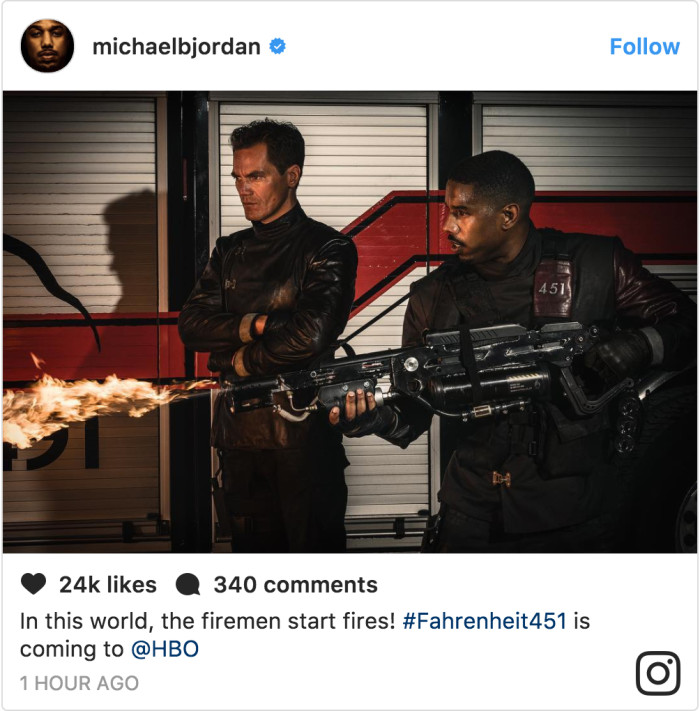 HBO Films announced this new adaptation of Ray Bradbury's classic 1953 novel back in April, so I'm a little surprised we're seeing what looks to be a very polished image from it so quickly. In any case, the photo looks appropriately dystopian, with Jordan presumably burning a pile of books as Shannon watches, stone-faced.
Here's the synopsis of the classic novel:
Set in the 24th century, Fahrenheit 451 tells the story of the protagonist, Guy Montag. At first, Montag takes pleasure in his profession as a fireman, burning illegally owned books and the homes of their owners. However, Montag soon begins to question the value of his profession and, in turn, his life.
Jordan is playing Guy Montag, while Shannon plays his antagonistic mentor, Captain Beatty. The movie has been adapted for the big screen a handful of times before, most famously by French New Wave filmmaker François Truffaut in 1966. Check out the trailer for his adaptation below:
Ramin Bahrani, who directed Shannon in the home eviction film 99 Homes, is directing this new adaptation and co-writing the script with his 99 Homes co-writer Amir Naderi. Bahrani is a filmmaker who clearly values the concept of empathy, whether that's exploring a family who's forcefully booted from their homes in his latest feature or telling a small-scale story of a food cart operator on the streets of New York City in his 2005 film Man Push Cart.
It's not surprising in the least that he's tackling a project that embraces the ideas of knowledge and intelligence. Something as simple as making a movie that supports those ideals, which should be a given in our society, has, depressingly, now become a strong political statement. With an administration that actively suppresses the truth at every turn and often seems fundamentally opposed to it, a new Fahrenheit 451 movie might sadly be the perfect movie for our times.
There's no release date for the film yet, but we'll keep you posted when we hear more.