'Star Wars' Comic-Con Display Reveals Some New 'Last Jedi' Details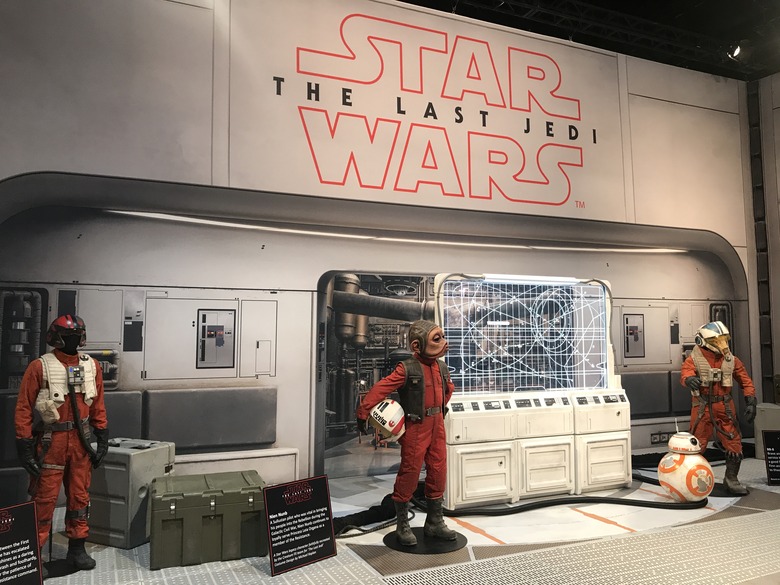 Lucasfilm has one of the many booths on the San Diego Comic-Con International show floor. And part of the booth this year is a small display of props and costumes from Rian Johnson's upcoming Star Wars: The Last Jedi. See some photos and get a few new Last Jedi details below.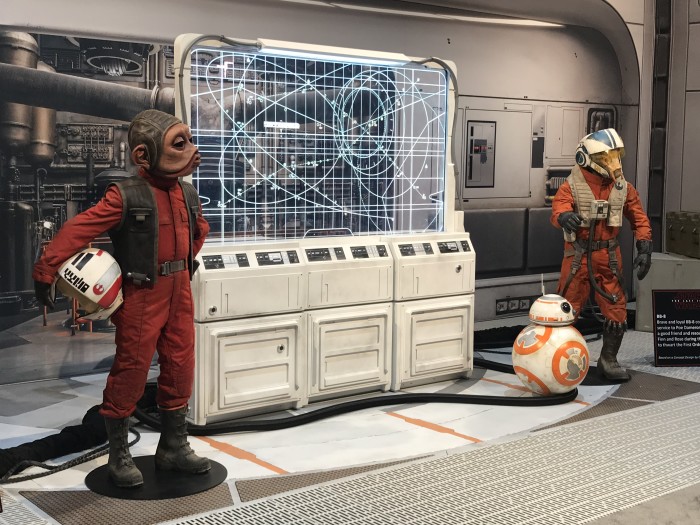 Located in the Star Wars Pavilion at booth #2913, the Star Wars: The Last Jedi display features four props and costumes from the next Skywalker saga film.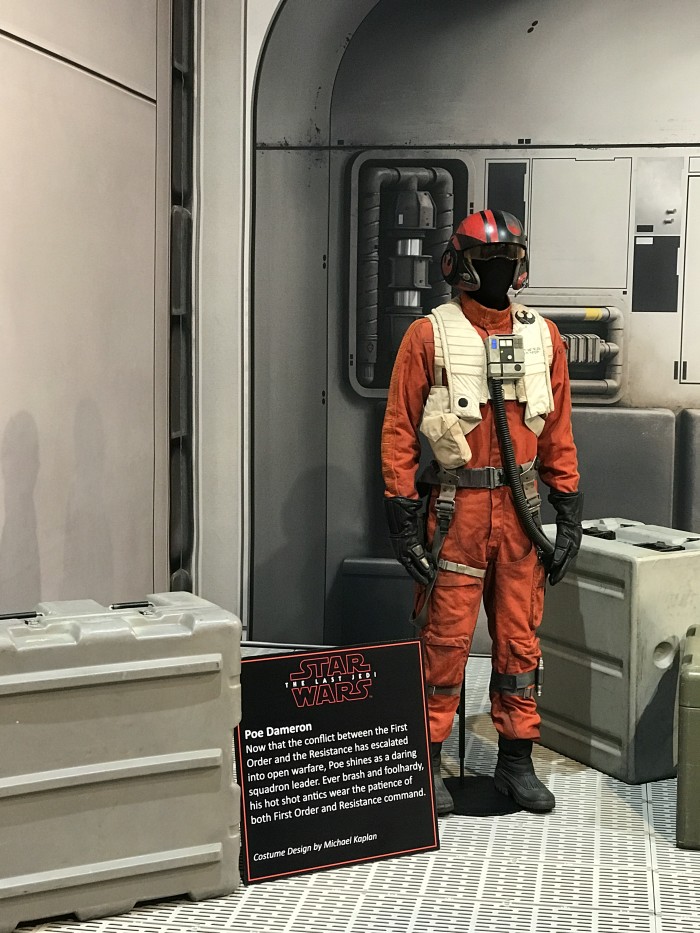 First up, we have the costume for Poe Dameron, the Resistance pilot played by Oscar Isaac. There isn't much of a surprise here as we've seen this X-wing pilot get-up before, but the official description posted next to the display hints that Poe Dameron may have some run-ins with his fellow Resistance members in this film:
Now that the conflict between the First Order and the Resistance has escalated into open warfare, Poe shines as a daring squadron leader. Ever brash and foolhardy, his hot shot antics wear the patience of both First Order and Resistance command. Costume Design by Michael Kaplan.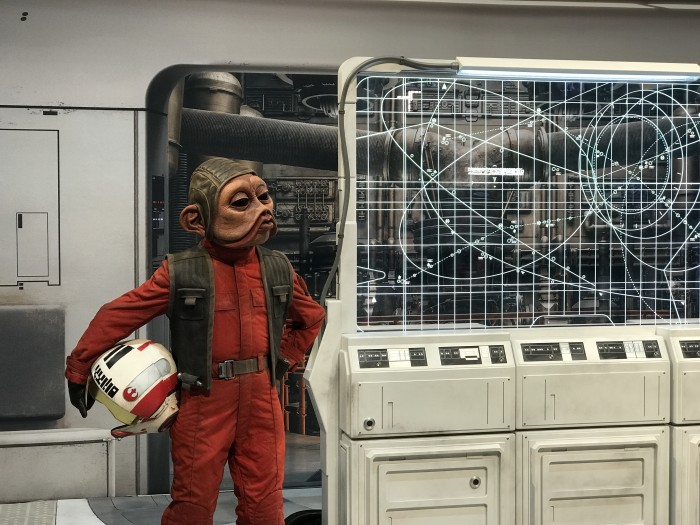 Next up, Nien Nunb, another Resistance character we have seen before not only in Star Wars: The Force Awakens, but the original trilogy. The official description doesn't seem to provide any clues or surprises:
A Sullustan pilot who was vital in bringing his people into the Rebellion during the Galactic Civil War, Nien Nunb continues to loyally serve Princess Leia Organa as a member of the Resistance. A Star Wars legacy character faithfully recreated by the Creature FX team for The Last Jedi. Costume Design by Michael Kaplan.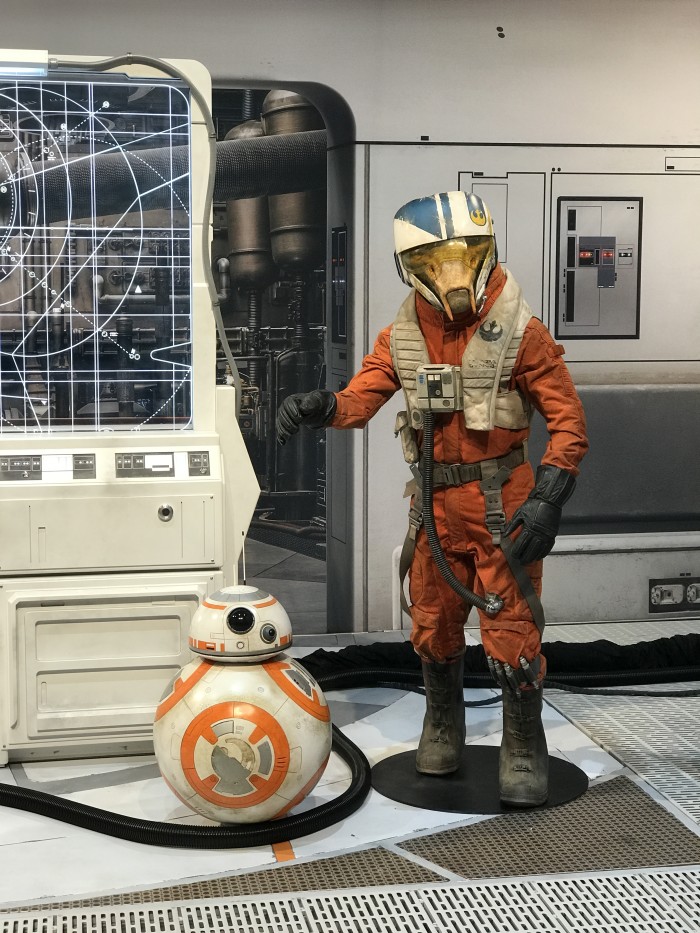 And last up are C'ai Threnalli and BB-8. C'ai is an interesting character because he first appeared in Star Wars: The Force Awakens, where actor Paul Kasey appeared wearing the costume of a different Star Wars character, Ello Asty, in one of the final scenes of the movie. But as some of you know, Asty's death had been shown earlier in the film, so Lucasfilm Story Group member Pablo Hidalgo invented a reason for Threnalli's appearance: the Abednedo alien seen waving off the Millennium Falcon as Rey flies off to find Luke must be a separate pilot than Asty, and it wasn't revealed to be Threnalli until he appeared in the "Escape from Starkiller Base" DLC expansion for the video game LEGO Star Wars: The Force Awakens. In the game, the character (voiced by Christian Simpson) crashes in an T-70 X-wing fighter during the Assault on Starkiller and then fights through First Order forces and escapes the planet's surface alongside fellow Resistance members Lieutenant Wright and R3-X3. The official info card provides us with some information on Threnalli's role in the upcoming film:
A skillful fighter pilot of Abednedo descent, C'ai Threnalli flies as Poe Dameron's wingman following the evacuation of D'Qar. Creature Design by Jake Lunt Davies. Costume Design by Michael Kaplan.
And lastly, BB-8, who doesn't look much different from the last time we saw him. The info card tells us that he will seperate from Poe Dameron to help Finn and Rose on their mission, likely the one that brings them to the casino city of Canto Bight.
Brave and loyal BB-8 continues his service to Poe Dameron, but also is a good friend and resourceful ally to Finn and Rose during their mission to thwart the First Order. Based on a Concept Design by Christian Alzmann.
So there you have it. Not much revealed in this display, but there is always the possibility that Disney could add or change out some of the characters as the convention goes on. This is a tactic Disney takes in their Marvel booth year after year, so it's possible. If that happens, we'll be sure to post about it.