First Look At Kylo Ren's New Ship, Plus Rian Johnson Compares 'The Last Jedi' To Previous 'Star Wars' Movies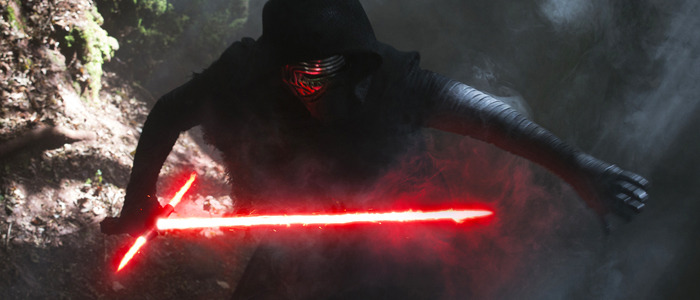 Adam Driver's petulant Star Wars villain Kylo Ren spent a good portion of The Force Awakens pacing around on a Star Destroyer or traveling to planet surfaces in his shuttle, but Darth Vader's grandson is getting a sleek new ride in Star Wars: The Last Jedi, and you can see the first photos of it below.
Plus, writer/director Rian Johnson compares his movie's tone to other films in the Star Wars saga, and it turns out this movie may be less indebted to The Empire Strikes Back than many might have thought.
Kylo's new ride
According to The Star Wars Show (the official, Lucasfilm-approved web series devoted to all things Star Wars), the new Kylo Ren ship is called the "TIE Silencer." Take a look at the video reveal below:
Looks pretty stylish and dangerous to me – almost like a dagger has been turned into a spaceship. That certainly fits with Kylo's sharp demeanor and prickly personality. And a quick note: the odds that anyone is actually going to address this ship as the "Sienar Jaemus TIE/VN Space Superiority Fighter" in the movie are essentially zero. (Historically, many of the ship names from Star Wars films have been revealed outside of the confines of the films themselves.) Click on these images to take a closer look:
Rian Johnson's comparisons
Meanwhile, Fandango's Erik Davis caught up with The Last Jedi writer/director Rian Johnson at this past weekend's D23 Expo and asked the filmmaker to compare his new movie to the Star Wars movies that have come before it. Not to get all clickbait-y on you or anything (since you've already clicked), but Johnson's answer may surprise you:
At #D23Expo, I asked @rianjohnson how he'd compare #TheLastJedi to the other #StarWars movies. Here's what he said... pic.twitter.com/2cVDfBbVD2

— Erik Davis (@ErikDavis) July 18, 2017
In case that gets taken down for some reason, here's the text of Johnson's response:
"The automatic temptation is to say, 'well it's a middle chapter, so it's got kind of that Empire thing.' But at the same time, I really wanted to maintain the same sense of fun that J.J. [Abrams] had in The Force Awakens, that to some extent in Return Of The Jedi, which I was like 10 years old, that was prime for me when that came out, and the sense of playfulness, I think. So when I say Empire, I guess I don't want to give the impression that it's kind of a dark, gloom and doom. It was also really important to me that this was a fun adventure. I don't know, it's a mixed bag of a lot of different stuff. And hopefully some unique stuff too."
The idea that he name-checks Return of the Jedi made me raise an eyebrow, because that movie doesn't have the same darkness as Empire, which many people assumed was going to be this movie's thematic companion. But though we've seen some darkness in the footage released for The Last Jedi so far, mentioning it in the same breath as Return has me excited that it won't be, as Johnson says, "a dark, gloom and doom" type of movie. I'd love to see a mixture of humor with heavier subject matter, and if his previous films are any indication, that's exactly what we're in for with this new movie.
Star Wars: The Last Jedi hits theaters on December 15, 2017.